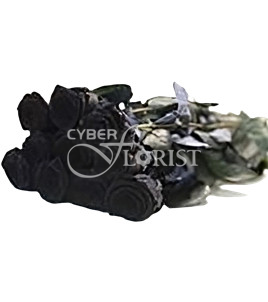 Like this? Share it with your friends
This specific flower is not a regular stock item so it may be unavailable for same day delivery. Sometimes it should be pre-ordered from a vendor. Leading time may vary depending on certain region. Please make sure the order is placed in advance. If these flowers are unavailable on the delivery date, we will contact you with the earliest delivery date.
Depending on the time of year, the availability of certain sorts of flowers in different regions may be reduced. Additionally, flowers of certain shades may be unavailable on the delivery date. We do our best to keep the original sort, size and color range of requested flower, however some deviations are allowed to occur.
Buy black roses apiece
Ordinary gifts can be found in a shop nearby, but once you have an opportunity to order flowers on the Internet, there is no need to limit yourself to the usual frames. Give the recipient a memorable surprise - choose a bouquet of delicate roses in black color! The secret of that shade is simple: white petals are painted with special ink that does not harm either the expressiveness or the health of the plants.
You set the bouquet size and could start from one rose and select any number of them. The only bound is time: the stems are immersed in water with a dye, which the buds slowly absorb, giving them that special color within few hours. Therefore we advise picking something else for the cases most urgent and unexpected; thankfully, our flower and gift delivery service offers many options ready to go quickly.
Cyber-Florist has a couple more impressive examples of gentle flower coloring in addition to the black one. Firstly, you could order a bouquet of blue roses, more mysterious and soulful in appearance. And secondly, take a look at fantastic rainbow roses with delivery, which is guaranteed to stay in the memory of the addressee as an exciting and pleasant moment.
Dear Slava, You did your job perfectly and I appreciate it! see below: >Darling thank you very much >The flowers are so beautiful, so tender, so gorgeous >This is the best bouquet 💐 in my life >Now I am happy darling, now I am very happy 💕💕💕💕❤️
As always I'm so pleased with your services, flowers arrived in perfect time. Thank you so much. I wish all of you and your staff a Happy New Year 2015. You guys are awesome.
Exceptional service I am very pleased and so is my father I would highly recommend your webside to all my friends
I am very impressed. Last night, I ordered flowers for my cousins in Poland who just lost their mother and grandmother. I requested that the flowers be delivered the next day. Not only were the flowers delivered as promised, but they were also of great quality. My cousins sent me a picture of the bouquet, and it was gorgeous. Thank you!
Very impressed! I needed to send flowers internationally to Poland and researched many sites prior to ordering from cyber-florist. Reviews from the other sites were not encouraging, but the many reviews for cyber-florist were very favorable, so I decided to take a chance on them. Ordered flowers, balloons, wine, and cake yesterday to be delivered today. The site was easy to maneuver and ordering was easy. I received emails letting me know when the order was in-progress and done. The delivery was on time, and everything looked great (from the pictures I received from the recipient)! Thanks for doing such a great job for this special occasion!!
Best international flower delivery service I've ever used. The customer service was beyond excellent. They were always quick to respond and very polite and informative regardless of the time of day. I have absolutely no complaints. Even through a pandemic I was able to send gorgeous flowers to my loved ones located in a very rural town in a different country. Well worthy every penny. Cyber-florist will be my to go to website for flower delivery every time now. I 100% recommend. Thank you so much Cyber-Florist!
Thanks you guys. I really appreciate it. I really recommend everyone to sick their help when u want a good job to be done. They care about their customers and they know what they do. They did my delivery on the same day. My dad was more than happy. Thanks thanks thanks. I will look forward to work with you again 👌👏
Thank you very much! The order was delivered on time! All fruits are fresh! The surprise worked! Thanks again for your services!
First time using your online store to order. YOU HIT IT IN THE PARK. PLEASE CONTINUE YOUR GREAT CUSTOMER SUPPORT, PAST DELIVERY PHOTOS SHOWS YOUR BUSINESS IS AN EXCELLENT PROVIDER OF GREAT CUSTOMER SERVICE. Used other Philippine online flower store in the past, THEY CHEATED THEIR CUSTOMERS BY SUBSTITUTING FLOWERS OR SOMETIMES SENDING WILTED FLOWERS KNOWING THAT SENDERS WILL NOT KNOW. I ALWAYS SEND THEM A PUTANG INA MESSAGE.