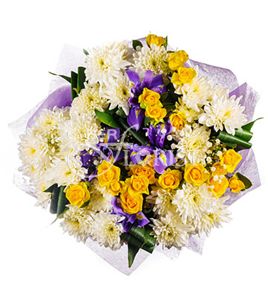 Like this? Share it with your friends
3 spray roses 6 spray chrysanthemums 5 irises Aspidistras Baby's breath Wrapping
Standard delivery time is 1 day. We guarantee same-day delivery if the order is placed and paid before 12pm local recipient's time.
Depending on the time of year, the availability of certain sorts of flowers in different regions may be reduced. Additionally, flowers of certain shades may be unavailable on the delivery date. Thus the delivery of an arrangement quite identical to the one shown on the web-site may be impossible. In this case our local florists will deliver a similar or a higher value arrangement. We do our best to keep the original shape, size and color range of requested bouquet, however some deviations are allowed to occur.
Buy a bouquet of roses, chrysanthemums, irises, and greens
What to gift to a creative person? There is a great way out — flower delivery. But you should choose carefully because a sophisticated personality can easily be disappointed with some stereotypical gift or trivial arrangement. It might be better to visit such a person empty-handed than bringing them a standard bouquet of red roses. Fortunately, we have some worthy options in stock, such as the Poetry.
The appearance resembles an artist's palette in the middle of working on a painting: here you see a mix of white color of both spray chrysanthemums and baby's breath, yellow shade of spray roses, purple flashes of irises, and green spots of vivid greens. The result turned out truly unusual but at the same time very welcoming and extremely benevolent. Finally, there is no gender reference here — this is an equally suitable flower bouquet for a man and a woman.
We are sure you enjoy the arrangement's color scheme, so we have prepared two more items in the same tones. A more modest and affordable of them would be the bouquet of spray chrysanthemums and baby's breath, small but super cheerful. The second one, the larger and more charming bouquet of yellow roses, irises in blue, and white lisianthuses, is worth to be presented even for a major holiday.
Just want to send you another note to thank everyone again, for DLE-50423045, and for all of the orders that you have completed for me, this year. The service provided, has been exceptional. The flower shop(s) that has completed the work, has not only made the the flower arrangements special, but there unique touch from time to time, including hand written messages on specially decorated cards, has made each order a joy to discover. There have been many orders, but with every one, the flowers have been of good quality and very fresh. And their delivery drivers, completely changing directions and cities, sometimes, to get the flowers to where ever Albina was, because she had already left the house. It is a bit unsettling to be ordering flowers from the other side of the world and risk a terrible outcome, because that special moment can not be replayed. However your team of people have made it reassuring to order, knowing the best possible outcome, will always be achieved. Of course the biggest indication that you are being successful, is the smiles you have brought to Albina's face with every delivery. She has been impressed with each one. For all of this, and for all of you, a really big THANK YOU. I love and miss Albina dearly, and you have helped me show her this, time and again.
Thank you very much for outstanding and customer oriented service
I am so thrilled! She messaged me with more excitement than I've ever heard! Needless to say, I will be using your service for many times to come!!
First time using your online store to order. YOU HIT IT IN THE PARK. PLEASE CONTINUE YOUR GREAT CUSTOMER SUPPORT, PAST DELIVERY PHOTOS SHOWS YOUR BUSINESS IS AN EXCELLENT PROVIDER OF GREAT CUSTOMER SERVICE. Used other Philippine online flower store in the past, THEY CHEATED THEIR CUSTOMERS BY SUBSTITUTING FLOWERS OR SOMETIMES SENDING WILTED FLOWERS KNOWING THAT SENDERS WILL NOT KNOW. I ALWAYS SEND THEM A PUTANG INA MESSAGE.
Thank you! You re amazing guys! Just conquered a new costumer here! Sure i ll request your services from now on... just need to look to my princess smile:))))) Best regards
My mother was in hospital when I placed the order. At that time I didn't know that she was in hospital, so I asked to deliver to her home address. As soon as I found out that my mom wasn't home, I sent the message from my profile notifying the company that my mother was in hospital. How I was surprised when an hour later I got the delivery photo in my email! They had delivered the gift in the hospital! My mother was extremely surprised and happy! Thank you!
Cyber-florist thank you so much... Great service. Its my first order and i am so happy i made this transaction with you... This is a very important occasion for my beloved and you made our day.. Perfect flowers exactly like on the webpage... The toy is very cute.. Kudos for your team.. Keep up the good work.. Looking forward for another order... I love you guys...
Thanks you guys. I really appreciate it. I really recommend everyone to sick their help when u want a good job to be done. They care about their customers and they know what they do. They did my delivery on the same day. My dad was more than happy. Thanks thanks thanks. I will look forward to work with you again 👌👏
The recipient was delighted with her flowers, and therefore I am delighted with your service to me. You can be sure that I will both return to you and send others to you.