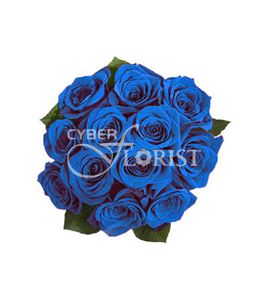 Like this? Share it with your friends
Blue roses are created by dyeing white roses.
This specific flower is not a regular stock item so it may be unavailable for same day delivery. Sometimes it should be pre-ordered from a vendor. Leading time may vary depending on certain region. Please make sure the order is placed in advance. If these flowers are unavailable on the delivery date, we will contact you with the earliest delivery date.
Depending on the time of year, the availability of certain sorts of flowers in different regions may be reduced. Additionally, flowers of certain shades may be unavailable on the delivery date. We do our best to keep the original sort, size and color range of requested flower, however some deviations are allowed to occur.
Buy a bouquet of blue roses
The case when the name conveys the very essence. If you wish to make a strong impression by ordering flowers at home, that is your best option. It's difficult coming up with such an occasion or situation where to buy blue roses would seem a bad idea. "Charming of Eyes" is a wonderful birthday present, a spectacular date invitation, and a memorable business souvenir.
The main disadvantage of the product is that it is not suitable for extra fast flower delivery. Alas, natural blue roses don't exist, therefore to achieve that rich shade, florists paint white buds by immersing the stems in a solution of a special dye, persistent but non-toxic. By absorbing it along with water for several hours, the petals acquire their signature sapphire look.
Surely we offer blue roses not only in standalone form. An arrangement of blue and white flowers of this type actively competes in attractiveness with a one-color one, slightly outperforming it in cost. There is another flower we color in the same way: a bouquet of white roses and blue chrysanthemums is an amazing Christmas gift and a great sign of attention at any other time.
thank you very much! you made me happy, excellent service...
Hi, Thank you so much. much appreciated your quick service. Kind regards,
Great Service, Delivered on the day i Requested in Lithuania. Client was incredibly happy and so am i! will absolutely be using you again for all our client birthdays!! thank you!
Thank you very much for outstanding and customer oriented service
Thank you, everyone, for all your help! This was a great experience getting flowers and having all my question answered plus little request met. Thank you again!!
Thanks for a job well done. I was very pleased and will order through you again in the future. Sincerely,
Dear Slava, You did your job perfectly and I appreciate it! see below: >Darling thank you very much >The flowers are so beautiful, so tender, so gorgeous >This is the best bouquet 💐 in my life >Now I am happy darling, now I am very happy 💕💕💕💕❤️
My mother was in hospital when I placed the order. At that time I didn't know that she was in hospital, so I asked to deliver to her home address. As soon as I found out that my mom wasn't home, I sent the message from my profile notifying the company that my mother was in hospital. How I was surprised when an hour later I got the delivery photo in my email! They had delivered the gift in the hospital! My mother was extremely surprised and happy! Thank you!
The order looks great and I appreciate what you guys do. I will continue to use your service. Thank You