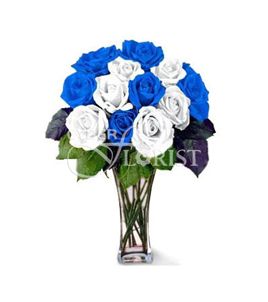 Like this? Share it with your friends
Small: 4 white roses 5 blue roses Vase Basic: 8 white roses 9 blue roses Vase Large: 12 white roses 13 blue roses Vase
This specific flower is not a regular stock item so it may be unavailable for same day delivery. Sometimes it should be pre-ordered from a vendor. Leading time may vary depending on certain region. Please make sure the order is placed in advance. If these flowers are unavailable on the delivery date, we will contact you with the earliest delivery date.
Depending on the time of year, the availability of certain sorts of flowers in different regions may be reduced. Additionally, flowers of certain shades may be unavailable on the delivery date. Thus the delivery of an arrangement quite identical to the one shown on the web-site may be impossible. In this case our local florists will deliver a similar or a higher value arrangement. We do our best to keep the original shape, size and color range of requested bouquet, however some deviations are allowed to occur.
Arrangement of blue and white roses
Our flower and gift delivery service surely knows how to surprise a person. We do that with exotic plants, unusual color combinations, and, of course, their incredible, unearthly shades. To buy blue roses on our website is as easy as the same done with the usual red ones. Although, they produce an immeasurably greater effect on the recipient, especially if paired with their white cousins in the "Magic" bouquet.
Bear in mind: for all its merits, the product won't suit situations when you need to order flowers urgently. Bright blue roses are made by placing white buds in dye water, and this procedure takes at least a few hours to obtain a quality result. Therefore, you have a great gift in your arsenal, but it is necessary to consider its delivery in advance.
At Cyber Florist, you can buy a modest or, on the contrary, a large bouquet of blue roses with no white ones: "Charming of Eyes" allows you to specify an arbitrary number of stems. For those looking for these flowers in a colorful but not colored form, we recommend a beautiful bouquet of multi-colored roses called Lambada.
she was very pleased with the gifts, thank you very much for your helpful service. Thank You
You have always done such a wonderful job with my Nastya, I truly appreciate your service.
Many thanks you have done an excellent job with this order, Imwould recommend your services to anyone, again thank you !
I have used a lot of online flower delivery services but Cyber Florist has exceeded my expectations. I ordered flowers and chocolate for my wife (who is abroad with her family at the moment) and the flowers were in great condition. The customer service was amazing as well! Slava was attentive to all my questions about the time and delivery and any other questions I had to ask. I will definitely continue ordering from Cyber Florist the future.
Thank you very much for the update and prompt delivery. Flowers look lovely! & so do the gifts. Enjoy your day.
I have used this company like 7 times for past 5 months, there always spot on, with question and concerns and the product always so fresh and make my special lady very happy 😃 thank u very much cyber-florist : )
Thank you guys,she loved the roses and chocolate 👍
Very impressed! I needed to send flowers internationally to Poland and researched many sites prior to ordering from cyber-florist. Reviews from the other sites were not encouraging, but the many reviews for cyber-florist were very favorable, so I decided to take a chance on them. Ordered flowers, balloons, wine, and cake yesterday to be delivered today. The site was easy to maneuver and ordering was easy. I received emails letting me know when the order was in-progress and done. The delivery was on time, and everything looked great (from the pictures I received from the recipient)! Thanks for doing such a great job for this special occasion!!
Thank you, guys, so much, for everything you do. My family in Vilnius is very happy with the food sets they have received today. You Rock! From my Family to yours - Wishing you and your family a Happy New year; filled with joy, adventures, opportunities and prosperities!! Happy New Year!