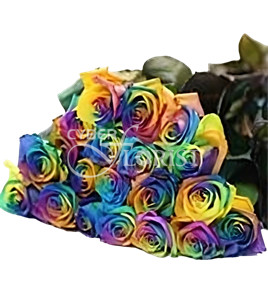 Like this? Share it with your friends
This specific flower is not a regular stock item so it may be unavailable for same day delivery. Sometimes it should be pre-ordered from a vendor. Leading time may vary depending on certain region. Please make sure the order is placed in advance. If these flowers are unavailable on the delivery date, we will contact the Customer with the earliest delivery date.
Depending on the time of year, the availability of certain sorts of flowers in different regions may be reduced. Additionally, flowers of certain shades may be unavailable on the delivery date. We do our best to keep the original sort, size and color range of requested flower, however some deviations are allowed to occur.
Buy rainbow roses apiece
If you need online flower delivery, you are probably looking for something amazing and impressive that you cannot find in a regular flower shop nearby. Rainbow roses are one of the most spectacular gifts in our collection. Choose any number of stems and send either a humble token of attention or a gorgeous flower bouquet in this incredible color.
The unique color of the petals, or rather, its combination of shades, is achieved by staining the white buds carefully for many hours. Therefore, if you urgently need to order roses with delivery, then rainbow roses won't work, and we'll have to advise you on something less laborious. Fortunately, the Cyber-Florist catalog offers a large variety of natural rosebud colors, ready to ship right away.
We do not paint roses only in rainbow colors — check out other interesting options! The most incredible of them would be a bouquet of black roses, and the most charming choice to please the recipient would be the opportunity to order blue roses with delivery. Just don't forget about the production time and place your order in advance!
Thanks a lot for Cyber Florist team! Great professional service! I ordered food basket from NY to Moscow. Next day delivery, reasonable price for such a good fresh food! Will recommend to my friends and will use it for myself.Great customer service! Thanks a lot!
Thank you, and thanks for the wonderful service and beautiful flowers. I live and work in Saudia Arabia and it is nice to have you there like my own personal shopper for birthdays, anniversaries, special occasions, our sons birthday and his first day of school celebrations.
I received a photo of the flower bouquet you delivered to Nataliya. It looks great and Nataliya was very pleased with it. I want to thank you for the good job you did and for the good result.
I used this site to order flowers for someone I care deeply about in Russia that is in a hospital, and it was the EASIEST process ever. After calling the 888 number a few times for guidance and speaking to a polite Russian man that spoke English, I ordered the 'Fancy' basket at 1421 CST yesterday, May 26. (I had to use an emailed link to pay instead of directly through the website, so don't be hesitant if this is what you also have to do. The man said it's because my credit card is with an American company.) The basket was delivered at 0905 this morning, May 27! I am SO PLEASED with the service, speed, and cost of this service. I will 100% use them again. I am so glad I took a chance and used this website. Now that I know it's legitimate, I may even do one of the more expensive options next time. May God bless you all, and thank you again!
she was very pleased with the gifts, thank you very much for your helpful service. Thank You
Thanks you guys. I really appreciate it. I really recommend everyone to sick their help when u want a good job to be done. They care about their customers and they know what they do. They did my delivery on the same day. My dad was more than happy. Thanks thanks thanks. I will look forward to work with you again 👌👏
The recipient was delighted with her flowers, and therefore I am delighted with your service to me. You can be sure that I will both return to you and send others to you.
Ordered birthday flowers, sparkling wine,chocolates & cake only to have the cake not delivered which is very disappointing
I am very impressed. Last night, I ordered flowers for my cousins in Poland who just lost their mother and grandmother. I requested that the flowers be delivered the next day. Not only were the flowers delivered as promised, but they were also of great quality. My cousins sent me a picture of the bouquet, and it was gorgeous. Thank you!