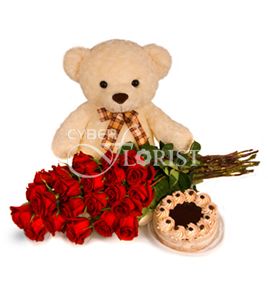 Like this? Share it with your friends
Red roses Medium-sized cake Medium teddy bear
It may take 2-3 days for this product to be delivered. Please make sure the order is placed in advance.
Appearance and brands may vary according to the assortment of a certain region. Our general responsibility is keeping quality and integrity of items delivered.
Buy red roses with a teddy bear and a cake
When you remember about your lady's birthday or your meeting anniversary directly on the event's very date, there is not enough time to come up with something original, so you need a reliable and proven way out. Such would be same-day flower delivery and our "Sweet holiday" gift set.
You don't have to stop at three different stores, because you can simultaneously buy a large bouquet of roses along with a fresh cake and a cute teddy bear. The courier would bring all this to the recipient at the address provided, instantly creating a festive atmosphere there. You are free to order flowers to a home or a work address, or alternately to leave the contact number of your chosen one, and then our courier would call to find out where it's more convenient to gift.
You can find a whole series of similar sets in our catalog, combining our main flower with the most popular add-ons. The large teddy bear with roses is impressive in size but comes with no sweet treats at all. On the contrary, red roses with chocolates, a box of imported cookies, and a bear would be the best choice for those with a sweet tooth.
Hello good morning! just received a message from her, and she is extremely happy with the flowers she got! Thank you very much for this :) Indeed, such a nice service!!!!!
Good morning, I just wanted to let you know how happy I am with your service. Great and timely customer service in Stary Oskol. Flowers were beautiful and my parents really liked the balloons idea :) good selection of champagne and chocolate brand. I appreciate and will use your company again!
As always I'm so pleased with your services, flowers arrived in perfect time. Thank you so much. I wish all of you and your staff a Happy New Year 2015. You guys are awesome.
I sent red roses to my wife in Moscow, Russia for her birthday and they were delivered exactly when required. I'm very impressed! The delivery guy called my wife to confirm delivery information and the flowers looked GREAT! I will definitely use this service again. 5 Stars!
Thank you so much for this! I appreciate. I Wish you prosper business!
Sanjeev kohli, New Delhi India
I LIVE IN UK, IN THE MORNING ORDERED A GORGEOUS FLOWERS FOR MY MOTHER WHO LIVES IN A VERY RURAL AREA IN RUSSIA, IT TOOK LESS THAN 7 HOURS FOR THE PARCEL TO GET DELIVERED!! I AM REALLY HAPPY VERY SATISFIED CUSTOMER, COULNDT WISH FOR MORE!! GREAT PRICE, GREAT SELECION , GREAT AND SPEEDY DELIVERY AND SERVICE ! CUSTOMER ADVISER VYACHESLAV DID PROVIDE A GREAT SERVICE AND BEEN REALLY HELPFULL, THANKYOU !
Thank you very much for the wonderful service and selection of gifts. I often use the Cyber Florist company for orders to Russia, and all of the arrangements that I have every ordered have always been delivered on time and looked exactly as described. The communication with the team has also been very good. I would definitely recommend this service to anyone!
First time using your online store to order. YOU HIT IT IN THE PARK. PLEASE CONTINUE YOUR GREAT CUSTOMER SUPPORT, PAST DELIVERY PHOTOS SHOWS YOUR BUSINESS IS AN EXCELLENT PROVIDER OF GREAT CUSTOMER SERVICE. Used other Philippine online flower store in the past, THEY CHEATED THEIR CUSTOMERS BY SUBSTITUTING FLOWERS OR SOMETIMES SENDING WILTED FLOWERS KNOWING THAT SENDERS WILL NOT KNOW. I ALWAYS SEND THEM A PUTANG INA MESSAGE.
Thank u so much. U r a great site thanks)))