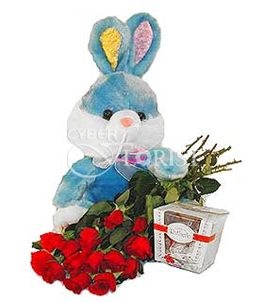 Like this? Share it with your friends
Stuffed rabbit Red roses Rafaello chocolate box
It may take 2-3 days for this product to be delivered. Please make sure the order is placed in advance.
Appearance and brands may vary according to the assortment of a certain region. Our general responsibility is keeping quality and integrity of items delivered.
Buy red roses, a plush bunny and a box of Raffaello coconut candy
A decent gift, like a good compliment, is distinguished by its originality. Still our online flower delivery service can offer you a fresh approach. So while everyone else is buying standard bears and chocolates, choose the charming plush bunny and delicious "Raffaello" coconut candies!
You can add any number of flowers to the set: a huge bouquet of roses or just a single stem. We can prepare the arrangement in a glass vase and/or decorate it with extra greenery and wrap it nicely for an additional fee. There are also balloons, a cake or a toy buddy for the bunny - a stuffed puppy or a teddy bear.
If you are planning to order flowers online to really impress the recipient, this set or roses, bunny and Raffaellos turns out to be an excellent solution. Plus, it's more cost-effective than just picking plain roses and then manually adding options to them.
A similar gift but with a more traditional toy and sweets selection is called "You and Me", is a bouquet of roses with a bear and chocolates. In terms of price, these two products match completely. And if you wish to save even more you can abandon the plush component and choose just red roses with chocolates.

Send gifts and flowers to family and friends anywhere in the world with Cyber Florist! We have been in this business for over 10 years now.
THANK YOU GUYS FOR SUCH GREAT SERVICE!!! WISH YOU HAPPY NEW YEAR AND LOTS AND LOTS OF CLIENTS! PLEASE DONT STOP YOUR SERVICE ;) PS I WILL RECOMMEND YOU TO ALL PEOPLE
Thank you very much for outstanding and customer oriented service
Thankyou for your fantastic service.You saved a man from the wrath of a woman.She is so pleased with the gift and Roses .Thankyou again. I have always been impressed by your service.
Thanks for the service and attention. Flowers were beautiful and She loved them!. Also thanks for helping me with the request and also with the delivery and congratulations, I'll definetely will continue using your services. Please feel free to send me news about your site. I will recomend you!.
Words cant thank enough for the fast service , very professional staff and an ability to understand , work with different client's requests. I would never look any further if I have to send little love from far away one more time. I would personally recommend cyber-florist. Thank you very much for all extra miles. sincerely yours, Elena
Thank You for working hard and helping me! Wonderful experience! Thanks!
I LIVE IN UK, IN THE MORNING ORDERED A GORGEOUS FLOWERS FOR MY MOTHER WHO LIVES IN A VERY RURAL AREA IN RUSSIA, IT TOOK LESS THAN 7 HOURS FOR THE PARCEL TO GET DELIVERED!! I AM REALLY HAPPY VERY SATISFIED CUSTOMER, COULNDT WISH FOR MORE!! GREAT PRICE, GREAT SELECION , GREAT AND SPEEDY DELIVERY AND SERVICE ! CUSTOMER ADVISER VYACHESLAV DID PROVIDE A GREAT SERVICE AND BEEN REALLY HELPFULL, THANKYOU !
Thanks you guys. I really appreciate it. I really recommend everyone to sick their help when u want a good job to be done. They care about their customers and they know what they do. They did my delivery on the same day. My dad was more than happy. Thanks thanks thanks. I will look forward to work with you again 👌👏
Thank you very much for your service, I will definitely be using it again. Have a very good day.
Fernando Fernández Rodríguez