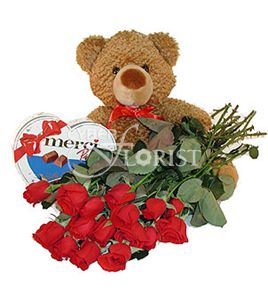 Like this? Share it with your friends
Teddy-bear Box of chocolates Red roses
Standard delivery time is 1 day. We guarantee same-day delivery if the order is placed and paid before 12pm local recipient's time.
Appearance and brands may vary according to the assortment of a certain region. Our general responsibility is keeping quality and integrity of items delivered.
Buy red roses, Merci chocolates and a teddy bear
Courier flower delivery is an obvious choice for a Valentine's Day gift, but what if you don't know your beloved one's preferences yet? For such a case we have created a universal set pleasing the vast majority of ladies. Order it and you won't go wrong!
It's a classic rose bouquet of bright red color (whose size you select for yourself) complemented by a box of imported Merci chocolates and delivered with a medium-sized teddy bear. Such a set won't impress, perhaps, only the most fastidious and picky recipients.
Surely you can always just buy flowers with home delivery and attach a couple of nice additions to them yourself, but a pre-made item would also allow you to save some money on a joint purchase. It would be cheaper to order the flowers, the toy and the chocolates at once than building up a similar gift from separate parts.
Our assortment contains a whole series of similar ready-made sets with varying options included. Do you want to make your congratulations even sweeter? A bear, flowers, chocolates and cookies combined together are at your service. What if your crush does not like stuffed animals? Just a pair of red roses and cookies is the most affordable product in the series and it does not have a bear.
Cyber Florist prepared a collection of various gifts for you, the most diverse in contents and value. You would definitely find something suitable in our catalog!
My mother was in hospital when I placed the order. At that time I didn't know that she was in hospital, so I asked to deliver to her home address. As soon as I found out that my mom wasn't home, I sent the message from my profile notifying the company that my mother was in hospital. How I was surprised when an hour later I got the delivery photo in my email! They had delivered the gift in the hospital! My mother was extremely surprised and happy! Thank you!
Hi, Thank you so much. much appreciated your quick service. Kind regards,
The recipient was delighted with her flowers, and therefore I am delighted with your service to me. You can be sure that I will both return to you and send others to you.
Thankyou for your fantastic service.You saved a man from the wrath of a woman.She is so pleased with the gift and Roses .Thankyou again. I have always been impressed by your service.
Thank u so much. U r a great site thanks)))
Thanks you guys. I really appreciate it. I really recommend everyone to sick their help when u want a good job to be done. They care about their customers and they know what they do. They did my delivery on the same day. My dad was more than happy. Thanks thanks thanks. I will look forward to work with you again 👌👏
Hi, Thanks for your great service! Regards,
THANK YOU GUYS FOR SUCH GREAT SERVICE!!! WISH YOU HAPPY NEW YEAR AND LOTS AND LOTS OF CLIENTS! PLEASE DONT STOP YOUR SERVICE ;) PS I WILL RECOMMEND YOU TO ALL PEOPLE
she was very pleased with the gifts, thank you very much for your helpful service. Thank You