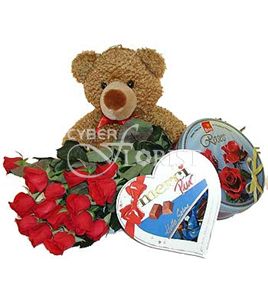 Like this? Share it with your friends
Teddy-bear Box of chocolates Box of cookies Red Roses
Standard delivery time is 1 day. We guarantee same-day delivery if the order is placed and paid before 12pm local recipient's time.
Appearance and brands may vary according to the assortment of a certain region. Our general responsibility is keeping quality and integrity of items delivered.
Buy red roses, Merci chocolates, cookies and a teddy bear
Everyone loves pleasant surprises, especially when they taste sweet. A classic bouquet of red roses would shine in a new way if you add treats and a cute friend to it. Here the treats are Merci chocolates and a box of imported cookies, and the friend is the adorable medium-sized teddy bear.
When using our service to order flower delivery to another city, you choose the number of roses yourself and absolutely arbitrarily: from one bud to a giant bouquet. Despite the fact that the gift already contains chocolate, cookies and a bear, you can still include a cake, a stuffed doggy or a bunch of balloons. All this, of course, is also exclusively your decision.
Buying a bouquet of flowers with lots of extras is just as easy as buying without them. By clicking the "Order" button you add the whole set to the cart and proceed to checkout - the procedure does not differ from your regular online store experience.
This gift set is our catalog's richest in add-ons. If it is too extensive for your purposes, then we have prepared a couple of more economical options. Red roses with chocolates and a teddy bear, but with no cookies, or, on the contrary, roses and cookies, but with no bear or chocolates.

You have come to the right place for flowers and gift delivery! Cyber Florist has been in business for over ten years and is always happy to help you congratulate your closest friends, relatives and loved ones.
Thank you very much for the update and prompt delivery. Flowers look lovely! & so do the gifts. Enjoy your day.
The order looks great and I appreciate what you guys do. I will continue to use your service. Thank You
Dear Slava, You did your job perfectly and I appreciate it! see below: >Darling thank you very much >The flowers are so beautiful, so tender, so gorgeous >This is the best bouquet 💐 in my life >Now I am happy darling, now I am very happy 💕💕💕💕❤️
Thank you, guys, so much, for everything you do. My family in Vilnius is very happy with the food sets they have received today. You Rock! From my Family to yours - Wishing you and your family a Happy New year; filled with joy, adventures, opportunities and prosperities!! Happy New Year!
Wow-what a great service, Thank you so much, it only took a couple of hours and my gift was delivered and much appreciated. I won't hesitate to use your service again.
Hi, Thanks for your great service! Regards,
she was very pleased with the gifts, thank you very much for your helpful service. Thank You
Thank you very much for the wonderful and curtious service. Mila is very happy with the arrangement !! Obviously I will return with more business in the future!! Respectively,
Thank you, and thanks for the wonderful service and beautiful flowers. I live and work in Saudia Arabia and it is nice to have you there like my own personal shopper for birthdays, anniversaries, special occasions, our sons birthday and his first day of school celebrations.