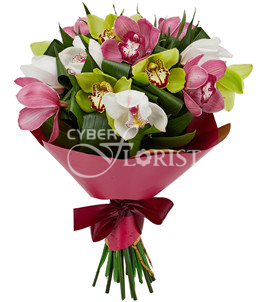 Like this? Share it with your friends
15 orchids Greenery Wrapping Ribbon
This specific flower is not a regular stock item so it may be unavailable for same day delivery. Sometimes it should be pre-ordered from a vendor. Leading time may vary depending on certain region. Please make sure the order is placed in advance. If these flowers are unavailable on the delivery date, we will contact you with the earliest delivery date.
Depending on the time of year, the availability of certain sorts of flowers in different regions may be reduced. Additionally, flowers of certain shades may be unavailable on the delivery date. Thus the delivery of an arrangement quite identical to the one shown on the web-site may be impossible. In this case our local florists will deliver a similar or a higher value arrangement. We do our best to keep the original shape, size and color range of requested bouquet, however some deviations are allowed to occur.
Thank You again for a job well done. Olga loved the arrangement. i will be in touch with you again in January. Olga has a birthday and it will be 10 years that we have been together on 20 January. Thank You again. she was very surprised and happy.
Thank u so much. U r a great site thanks)))
Great Service, Delivered on the day i Requested in Lithuania. Client was incredibly happy and so am i! will absolutely be using you again for all our client birthdays!! thank you!
Thank you so much for your service! I ordered perfume and few other gifts and she was so happy! This is a very convenient service. I will definitely use your company for future holidays and recommend to my friends.
Best international flower delivery service I've ever used. The customer service was beyond excellent. They were always quick to respond and very polite and informative regardless of the time of day. I have absolutely no complaints. Even through a pandemic I was able to send gorgeous flowers to my loved ones located in a very rural town in a different country. Well worthy every penny. Cyber-florist will be my to go to website for flower delivery every time now. I 100% recommend. Thank you so much Cyber-Florist!
Thank you very much for a job well done. Great photo too. You are a great company and I will continue to use your services. Much appreciated.
Exceptional service I am very pleased and so is my father I would highly recommend your webside to all my friends
Thank you, guys, so much, for everything you do. My family in Vilnius is very happy with the food sets they have received today. You Rock! From my Family to yours - Wishing you and your family a Happy New year; filled with joy, adventures, opportunities and prosperities!! Happy New Year!
My mother was in hospital when I placed the order. At that time I didn't know that she was in hospital, so I asked to deliver to her home address. As soon as I found out that my mom wasn't home, I sent the message from my profile notifying the company that my mother was in hospital. How I was surprised when an hour later I got the delivery photo in my email! They had delivered the gift in the hospital! My mother was extremely surprised and happy! Thank you!