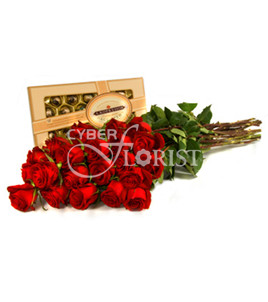 Like this? Share it with your friends
Red roses A box of chocolates
Standard delivery time is 1 day. We guarantee same-day delivery if the order is placed and paid before 12pm local recipient's time.
Appearance and brands may vary according to the assortment of a certain region. Our general responsibility is keeping quality and integrity of items delivered.
Buy a bouquet of red roses and a box of chocolates
An excellent choice when you do not have time to make this choice and just need urgent flower delivery. This combination of classic gifts suits any romantic occasion.
In this case we won't be able to tell you how much a bouquet of roses costs right from the start as you select the desired quantity yourself: from just one flower to over a hundred of them. It turns out this item would work equally well as both a modest and economical option and an expensive and chic one.
Roses are offered here with no additions, but you can include some greens along with nice wrapping or a glass vase to them as paid options. This list continues with plush animals, a cake or 5 balloons — feel free to add anything from it or even everything at once.
For those who don't like or cannot eat chocolate we recommend almost the same gift, which includes red roses and cookies instead of sweets. And for people whose sweet tooth has a refined sense of taste, we prepared an elegant arrangement of flowers and macaroons in a box.
Affordable flower bouquets, delicious options and quick delivery — all this awaits you at Cyber Florist. Place your order on our website and contact 24x7 support if you encounter any difficulties or would like to ask any questions.
Ordered birthday flowers, sparkling wine,chocolates & cake only to have the cake not delivered which is very disappointing
Hi, Thank you so much. much appreciated your quick service. Kind regards,
I am so thrilled! She messaged me with more excitement than I've ever heard! Needless to say, I will be using your service for many times to come!!
You guys did a bang up job, you get my vote for best florist, thank you so much for your help with my delivery to Russiayou were very responsive when out of your way to call me, and check the details in a very satisfied customer thanks Kree you can post my comments
Thank you very much for outstanding and customer oriented service
The order looks great and I appreciate what you guys do. I will continue to use your service. Thank You
Thanks you guys. I really appreciate it. I really recommend everyone to sick their help when u want a good job to be done. They care about their customers and they know what they do. They did my delivery on the same day. My dad was more than happy. Thanks thanks thanks. I will look forward to work with you again 👌👏
Thank you, guys, so much, for everything you do. My family in Vilnius is very happy with the food sets they have received today. You Rock! From my Family to yours - Wishing you and your family a Happy New year; filled with joy, adventures, opportunities and prosperities!! Happy New Year!
My mother was in hospital when I placed the order. At that time I didn't know that she was in hospital, so I asked to deliver to her home address. As soon as I found out that my mom wasn't home, I sent the message from my profile notifying the company that my mother was in hospital. How I was surprised when an hour later I got the delivery photo in my email! They had delivered the gift in the hospital! My mother was extremely surprised and happy! Thank you!