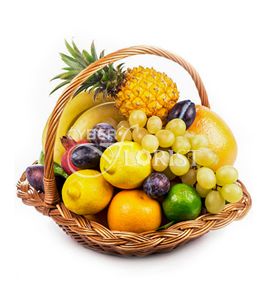 Like this? Share it with your friends
Pineapple Plums Lemons Bananas Orange Lime Grapefruit Pomegranate Grapes Basket Net weight is 11 pounds
Standard delivery time is 1 day. We guarantee same-day delivery if the order is placed and paid before 12pm local recipient's time.
Appearance and brands may vary according to the assortment of a certain region. Our general responsibility is keeping quality and integrity of items delivered.
The order looks great and I appreciate what you guys do. I will continue to use your service. Thank You
Thank you very much for a job well done. Great photo too. You are a great company and I will continue to use your services. Much appreciated.
I would like to thank you Denis-administrator and all the team for your continued support to ensure my delivery in Russia took place after a few teething problems. ! Your response rate to my emails was excellent! Thank you once again and A Very Merry Christmas to you all.
Thank You for working hard and helping me! Wonderful experience! Thanks!
Thank you so much for your service! I ordered perfume and few other gifts and she was so happy! This is a very convenient service. I will definitely use your company for future holidays and recommend to my friends.
Thank you, everyone, for all your help! This was a great experience getting flowers and having all my question answered plus little request met. Thank you again!!
The recipient was delighted with her flowers, and therefore I am delighted with your service to me. You can be sure that I will both return to you and send others to you.
she was very pleased with the gifts, thank you very much for your helpful service. Thank You
Best international flower delivery service I've ever used. The customer service was beyond excellent. They were always quick to respond and very polite and informative regardless of the time of day. I have absolutely no complaints. Even through a pandemic I was able to send gorgeous flowers to my loved ones located in a very rural town in a different country. Well worthy every penny. Cyber-florist will be my to go to website for flower delivery every time now. I 100% recommend. Thank you so much Cyber-Florist!