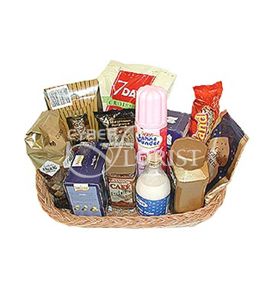 Like this? Share it with your friends
1 pack of instant coffee, 4 sorts of pure and grained coffee, best whipped cream and fresh croissants, tasty cookies and sugar, basket.
Standard delivery time is 1 day. We guarantee same-day delivery if the order is placed and paid before 12pm local recipient's time.
Appearance and brands may vary according to the assortment of a certain region. Our general responsibility is keeping quality and integrity of items delivered.
Buy a gift basket with coffee and croissants with delivery
This gift basket is specially created so that you can order its delivery to a loved one just like that - for no reason.
Just delight the recipient by brightening his day with a beautiful coffee break basket. We will deliver everything you need in one basket.
The basket contains instant coffee, ground Arabica and Moccona coffee, two types of coffee beans, whipped cream, cookies, croissants and refined sugar.
This basket is presented in the Cyber ​​Florist catalog only in one size. But we can deliver a coffee basket with additional gifts.
You can add a box of chocolates, balloons, cake or stuffed animal as additional gifss and we will deliver them along with the basket.
As always I'm so pleased with your services, flowers arrived in perfect time. Thank you so much. I wish all of you and your staff a Happy New Year 2015. You guys are awesome.
First time using your online store to order. YOU HIT IT IN THE PARK. PLEASE CONTINUE YOUR GREAT CUSTOMER SUPPORT, PAST DELIVERY PHOTOS SHOWS YOUR BUSINESS IS AN EXCELLENT PROVIDER OF GREAT CUSTOMER SERVICE. Used other Philippine online flower store in the past, THEY CHEATED THEIR CUSTOMERS BY SUBSTITUTING FLOWERS OR SOMETIMES SENDING WILTED FLOWERS KNOWING THAT SENDERS WILL NOT KNOW. I ALWAYS SEND THEM A PUTANG INA MESSAGE.
Hi, Thank you so much. much appreciated your quick service. Kind regards,
Hi, Its so nice of you , I highly appreciate your services and your dealing with customers , I will be using cyber-Florist for future orders :) Regards
Today I sent my wife in Bishkek flowers and champagne and chocolates ...I wish to thank you on all your excellent service .. your service is the best I have encountered regards
I received a photo of the flower bouquet you delivered to Nataliya. It looks great and Nataliya was very pleased with it. I want to thank you for the good job you did and for the good result.
Hello good morning! just received a message from her, and she is extremely happy with the flowers she got! Thank you very much for this :) Indeed, such a nice service!!!!!
Cyber-florist thank you so much... Great service. Its my first order and i am so happy i made this transaction with you... This is a very important occasion for my beloved and you made our day.. Perfect flowers exactly like on the webpage... The toy is very cute.. Kudos for your team.. Keep up the good work.. Looking forward for another order... I love you guys...
Thank you very much for outstanding and customer oriented service