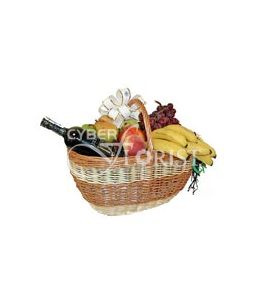 Like this? Share it with your friends
Apples Pears Grapes Bananas Oranges Tangerines Kiwi Lemons 1 pineapple 1 bottle of red wine Fruits weight is 11 pounds (5 kg)
Standard delivery time is 1 day. We guarantee same-day delivery if the order is placed and paid before 12pm local recipient's time.
Appearance and brands may vary according to the assortment of a certain region. Our general responsibility is keeping quality and integrity of items delivered.
Buy a fruit basket with a bottle of wine
Everyone loves fruit! Especially when it's a fancy fruit basket given as a gift. This is a multi-colored magnet attracting everyone's eyes and — at the same time — a very healthy and tasty treat either for your special person, for the whole family, or for a small collective.
It contains apples, pears, grapes, bananas, oranges, tangerines, kiwifruit, lemon, pineapple and, of course, red wine. Our company is working in groceries and fruit delivery business for over ten years, so we have reliable suppliers in all major cities that ensure the excellent taste and freshness of any set you may choose.
When choosing a product with alcohol, take into account the corresponding laws of the country in which you place your order. Cyber Florist International gift delivery service would not be able to deliver wine unless it is certain that the recipient is in the legal age.
Choose non-alcoholic items if you wish to avoid such cases. One of them is "Enjoyable" basket of fresh fruit, which delicious contents allow you to send it even to a children's holiday. Speaking of holidays, a very bright and elegant birthday present for a person or a company would be this beautiful fruit basket, whose different colors harmoniously merge into each other like in a rainbow.
Our assortment includes only fresh fruit and flowers. Order them via our website and contact our support service in case of any difficulties, it's online 24/7!
Thank you, guys, so much, for everything you do. My family in Vilnius is very happy with the food sets they have received today. You Rock! From my Family to yours - Wishing you and your family a Happy New year; filled with joy, adventures, opportunities and prosperities!! Happy New Year!
I used this site to order flowers for someone I care deeply about in Russia that is in a hospital, and it was the EASIEST process ever. After calling the 888 number a few times for guidance and speaking to a polite Russian man that spoke English, I ordered the 'Fancy' basket at 1421 CST yesterday, May 26. (I had to use an emailed link to pay instead of directly through the website, so don't be hesitant if this is what you also have to do. The man said it's because my credit card is with an American company.) The basket was delivered at 0905 this morning, May 27! I am SO PLEASED with the service, speed, and cost of this service. I will 100% use them again. I am so glad I took a chance and used this website. Now that I know it's legitimate, I may even do one of the more expensive options next time. May God bless you all, and thank you again!
Thanks you guys. I really appreciate it. I really recommend everyone to sick their help when u want a good job to be done. They care about their customers and they know what they do. They did my delivery on the same day. My dad was more than happy. Thanks thanks thanks. I will look forward to work with you again 👌👏
Thank you very much for a job well done. Great photo too. You are a great company and I will continue to use your services. Much appreciated.
First time using your online store to order. YOU HIT IT IN THE PARK. PLEASE CONTINUE YOUR GREAT CUSTOMER SUPPORT, PAST DELIVERY PHOTOS SHOWS YOUR BUSINESS IS AN EXCELLENT PROVIDER OF GREAT CUSTOMER SERVICE. Used other Philippine online flower store in the past, THEY CHEATED THEIR CUSTOMERS BY SUBSTITUTING FLOWERS OR SOMETIMES SENDING WILTED FLOWERS KNOWING THAT SENDERS WILL NOT KNOW. I ALWAYS SEND THEM A PUTANG INA MESSAGE.
Thanks a lot for Cyber Florist team! Great professional service! I ordered food basket from NY to Moscow. Next day delivery, reasonable price for such a good fresh food! Will recommend to my friends and will use it for myself.Great customer service! Thanks a lot!
I have an account with you and used your service for the first time recently. I am here to say I AM VERY PLEASED! Your delivery was on time, the flowers and vase were very beautiful (my lady was VERY impressed) and everything was wonderful. Thank you. I will be sure to use your service again. :-)
she was very pleased with the gifts, thank you very much for your helpful service. Thank You
Thankyou for your fantastic service.You saved a man from the wrath of a woman.She is so pleased with the gift and Roses .Thankyou again. I have always been impressed by your service.