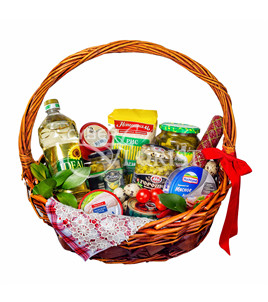 Like this? Share it with your friends
Rice Red caviar Processed cheese Green olives Sunflower oil Quail eggs Tuna fillet Green peas Dry sausage Red chilies Pickles Decoration Basket
Standard delivery time is 1 day. We guarantee same-day delivery if the order is placed and paid before 12pm local recipient's time.
Appearance and brands may vary according to the assortment of a certain region. Our general responsibility is keeping quality and integrity of items delivered.
Grocery basket with delivery for relatives and friends
This gift basket was created specifically for family holidays, for congratulating loved ones and relatives.
In those moments when you can't be around, but want to please, for example, your parents - send them a gift basket from Cyber ​​Florist.
You can send your gift message along with the basket. Place an order for delivery on our website, and don't forget to add your message.
Our support team is available 24/7 for you. Please contact us if you have questions or problems placing an order.
I have an account with you and used your service for the first time recently. I am here to say I AM VERY PLEASED! Your delivery was on time, the flowers and vase were very beautiful (my lady was VERY impressed) and everything was wonderful. Thank you. I will be sure to use your service again. :-)
Thanks for the service and attention. Flowers were beautiful and She loved them!. Also thanks for helping me with the request and also with the delivery and congratulations, I'll definetely will continue using your services. Please feel free to send me news about your site. I will recomend you!.
The service was just exceptional, flowers were amazing and I was able with help of cyber florist to make a nice surprise for my mother on her birthday. I have never experienced such a great service. Certainly will come back for your services and will promote your actively in my inner circle.
Hello good morning! just received a message from her, and she is extremely happy with the flowers she got! Thank you very much for this :) Indeed, such a nice service!!!!!
Dear Slava, You did your job perfectly and I appreciate it! see below: >Darling thank you very much >The flowers are so beautiful, so tender, so gorgeous >This is the best bouquet 💐 in my life >Now I am happy darling, now I am very happy 💕💕💕💕❤️
The recipient was delighted with her flowers, and therefore I am delighted with your service to me. You can be sure that I will both return to you and send others to you.
I have used this company like 7 times for past 5 months, there always spot on, with question and concerns and the product always so fresh and make my special lady very happy 😃 thank u very much cyber-florist : )
she was very pleased with the gifts, thank you very much for your helpful service. Thank You
Thanks you guys. I really appreciate it. I really recommend everyone to sick their help when u want a good job to be done. They care about their customers and they know what they do. They did my delivery on the same day. My dad was more than happy. Thanks thanks thanks. I will look forward to work with you again 👌👏