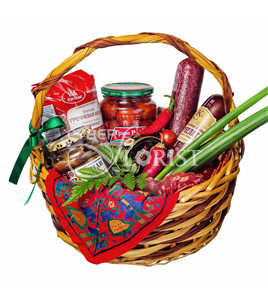 Like this? Share it with your friends
Dry sausage Cervelat Sliced meat Marinated mushrooms Marinated tomatoes Cherry tomatoes Green onion Red chilies Sprats in oil Buckwheat groats Decoration Basket
Standard delivery time is 1 day. We guarantee same-day delivery if the order is placed and paid before 12pm local recipient's time.
Appearance and brands may vary according to the assortment of a certain region. Our general responsibility is keeping quality and integrity of items delivered.
Grocery set for relatives and loved ones
This gift basket with products was created to congratulate relatives and people close to you. It is perfect for those moments when you are far away and want to show attention and care.
The basket contains meat delicacies, marinades, pickles and canned food - a great gift for parents or relatives.
Don't forget to select additional options and print your message when you place your order for delivery.
First time using your online store to order. YOU HIT IT IN THE PARK. PLEASE CONTINUE YOUR GREAT CUSTOMER SUPPORT, PAST DELIVERY PHOTOS SHOWS YOUR BUSINESS IS AN EXCELLENT PROVIDER OF GREAT CUSTOMER SERVICE. Used other Philippine online flower store in the past, THEY CHEATED THEIR CUSTOMERS BY SUBSTITUTING FLOWERS OR SOMETIMES SENDING WILTED FLOWERS KNOWING THAT SENDERS WILL NOT KNOW. I ALWAYS SEND THEM A PUTANG INA MESSAGE.
Thank you very much for outstanding and customer oriented service
Great service... ill book with uall again..
Hi, Thanks for your great service! Regards,
My mother was in hospital when I placed the order. At that time I didn't know that she was in hospital, so I asked to deliver to her home address. As soon as I found out that my mom wasn't home, I sent the message from my profile notifying the company that my mother was in hospital. How I was surprised when an hour later I got the delivery photo in my email! They had delivered the gift in the hospital! My mother was extremely surprised and happy! Thank you!
Great service and 5 out of 5 Stars for your work taking time finding details presenting the flowers and using quality products. Will recomment your service. Best from Norway
As always I'm so pleased with your services, flowers arrived in perfect time. Thank you so much. I wish all of you and your staff a Happy New Year 2015. You guys are awesome.
I used this site to order flowers for someone I care deeply about in Russia that is in a hospital, and it was the EASIEST process ever. After calling the 888 number a few times for guidance and speaking to a polite Russian man that spoke English, I ordered the 'Fancy' basket at 1421 CST yesterday, May 26. (I had to use an emailed link to pay instead of directly through the website, so don't be hesitant if this is what you also have to do. The man said it's because my credit card is with an American company.) The basket was delivered at 0905 this morning, May 27! I am SO PLEASED with the service, speed, and cost of this service. I will 100% use them again. I am so glad I took a chance and used this website. Now that I know it's legitimate, I may even do one of the more expensive options next time. May God bless you all, and thank you again!
Perfect. I placed my order from America to deliver to my fiance in St Petersburg, Russia and they delivered a perfect arrangement exactly as promised. Wonderful service especially with all the ignorance in the west making simply living difficult. Thank you for making my fiance (and me) very happy.