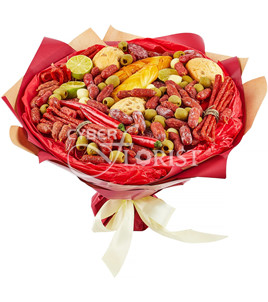 Like this? Share it with your friends
Raw smoked sausages of different types - 500 gr. Scamorza cheese - 100 gr. Chechil cheese - 100 gr. Chili pepper - 2 pcs. Green olives - 200 gr. Lime - 2 pcs. White bread - 3 pcs. Wrapping Ribbon
It may take 2-3 days for this product to be delivered. Please make sure the order is placed in advance.
Appearance and brands may vary according to the assortment of a certain region. Our general responsibility is keeping quality and integrity of items delivered.
Best international flower delivery service I've ever used. The customer service was beyond excellent. They were always quick to respond and very polite and informative regardless of the time of day. I have absolutely no complaints. Even through a pandemic I was able to send gorgeous flowers to my loved ones located in a very rural town in a different country. Well worthy every penny. Cyber-florist will be my to go to website for flower delivery every time now. I 100% recommend. Thank you so much Cyber-Florist!
Thank you, everyone, for all your help! This was a great experience getting flowers and having all my question answered plus little request met. Thank you again!!
Wow-what a great service, Thank you so much, it only took a couple of hours and my gift was delivered and much appreciated. I won't hesitate to use your service again.
Thank you guys,she loved the roses and chocolate 👍
I want to thank all of you for this great service , I want to thank you for the happiness moments you give us! You are always the best of the best!
The service was just exceptional, flowers were amazing and I was able with help of cyber florist to make a nice surprise for my mother on her birthday. I have never experienced such a great service. Certainly will come back for your services and will promote your actively in my inner circle.
Thanks for the service and attention. Flowers were beautiful and She loved them!. Also thanks for helping me with the request and also with the delivery and congratulations, I'll definetely will continue using your services. Please feel free to send me news about your site. I will recomend you!.
I have an account with you and used your service for the first time recently. I am here to say I AM VERY PLEASED! Your delivery was on time, the flowers and vase were very beautiful (my lady was VERY impressed) and everything was wonderful. Thank you. I will be sure to use your service again. :-)
I would like to thank you Denis-administrator and all the team for your continued support to ensure my delivery in Russia took place after a few teething problems. ! Your response rate to my emails was excellent! Thank you once again and A Very Merry Christmas to you all.