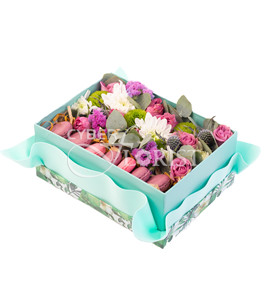 Like this? Share it with your friends
Spray Chrysanthemums - 2 Spray Rose - 1 Statice - 1 Eryngium - 1 Greenery Macarons - 7 Box
Standard delivery time is 1 day. We guarantee same-day delivery if the order is placed and paid before 12pm local recipient's time.
Depending on the time of year, the availability of certain sorts of flowers in different regions may be reduced. Additionally, flowers of certain shades may be unavailable on the delivery date. Thus the delivery of an arrangement quite identical to the one shown on the web-site may be impossible. In this case our local florists will deliver a similar or a higher value arrangement. We do our best to keep the original shape, size and color range of requested bouquet, however some deviations are allowed to occur.
Dear Slava, You did your job perfectly and I appreciate it! see below: >Darling thank you very much >The flowers are so beautiful, so tender, so gorgeous >This is the best bouquet 💐 in my life >Now I am happy darling, now I am very happy 💕💕💕💕❤️
Hi, Thanks for your great service! Regards,
Today I sent my wife in Bishkek flowers and champagne and chocolates ...I wish to thank you on all your excellent service .. your service is the best I have encountered regards
she was very pleased with the gifts, thank you very much for your helpful service. Thank You
I have used this company like 7 times for past 5 months, there always spot on, with question and concerns and the product always so fresh and make my special lady very happy 😃 thank u very much cyber-florist : )
Thank You for working hard and helping me! Wonderful experience! Thanks!
Thankyou for your fantastic service.You saved a man from the wrath of a woman.She is so pleased with the gift and Roses .Thankyou again. I have always been impressed by your service.
Hi, Its so nice of you , I highly appreciate your services and your dealing with customers , I will be using cyber-Florist for future orders :) Regards
Thank you, guys, so much, for everything you do. My family in Vilnius is very happy with the food sets they have received today. You Rock! From my Family to yours - Wishing you and your family a Happy New year; filled with joy, adventures, opportunities and prosperities!! Happy New Year!