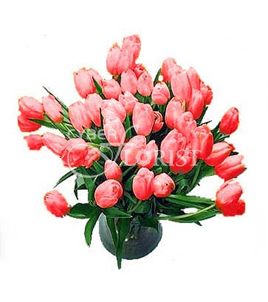 Like this? Share it with your friends
Standard delivery time is 1 day. We guarantee same-day delivery if the order is placed and paid before 12pm local recipient's time.
Depending on the time of year, the availability of certain sorts of flowers in different regions may be reduced. Additionally, flowers of certain shades may be unavailable on the delivery date. We do our best to keep the original sort, size and color range of requested flower, however some deviations are allowed to occur.
Buy red tulips apiece
The task to buy cheap flowers with delivery may seem daunting only at first glance. Indeed, in the Cyber Florist catalog, there is always an opportunity to find a particular flower, set the required quantity and order completely without any unnecessary options - we ask you to pay only for the bouquet and delivery. For example, here we sell red tulips like that.
It is common knowledge that red is the color of love, passion and burning fire. A bouquet of flowers for beloved one done in red would emphasize the strength of your feelings and an irresistible craving for this person. On the other hand, pale red tulips look more modest so they are suitable to congratulate your relative or friend on a holiday or an important event.
The best time to order tulips with delivery is March, around International Women's day and they regularly appear at local florists for a few following months. By the middle of summer and beyond the situation may change: it would be better to order these flowers a week or at least a few days before the planned delivery date to give them enough time to arrive from the supplier. In this case, the probability of success increases significantly.
Surely, in addition to red ones we give the opportunity to order white tulips or buy a bouquet of yellow tulips. Each color has the same price, which allows you to choose and compose a bouquet combining two or three shades. Write about this in your comment or message to the order, and we will fulfill it.
I want to thank all of you for this great service , I want to thank you for the happiness moments you give us! You are always the best of the best!
Best international flower delivery service I've ever used. The customer service was beyond excellent. They were always quick to respond and very polite and informative regardless of the time of day. I have absolutely no complaints. Even through a pandemic I was able to send gorgeous flowers to my loved ones located in a very rural town in a different country. Well worthy every penny. Cyber-florist will be my to go to website for flower delivery every time now. I 100% recommend. Thank you so much Cyber-Florist!
I am very impressed. Last night, I ordered flowers for my cousins in Poland who just lost their mother and grandmother. I requested that the flowers be delivered the next day. Not only were the flowers delivered as promised, but they were also of great quality. My cousins sent me a picture of the bouquet, and it was gorgeous. Thank you!
Thanks you guys. I really appreciate it. I really recommend everyone to sick their help when u want a good job to be done. They care about their customers and they know what they do. They did my delivery on the same day. My dad was more than happy. Thanks thanks thanks. I will look forward to work with you again 👌👏
Thankyou for your fantastic service.You saved a man from the wrath of a woman.She is so pleased with the gift and Roses .Thankyou again. I have always been impressed by your service.
Great service... ill book with uall again..
Today I sent my wife in Bishkek flowers and champagne and chocolates ...I wish to thank you on all your excellent service .. your service is the best I have encountered regards
Thank you very much for the wonderful and curtious service. Mila is very happy with the arrangement !! Obviously I will return with more business in the future!! Respectively,
Good morning, I just wanted to let you know how happy I am with your service. Great and timely customer service in Stary Oskol. Flowers were beautiful and my parents really liked the balloons idea :) good selection of champagne and chocolate brand. I appreciate and will use your company again!