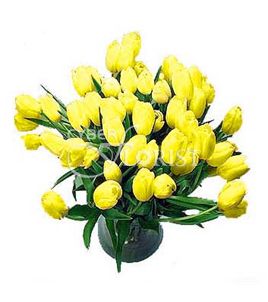 Like this? Share it with your friends
Standard delivery time is 1 day. We guarantee same-day delivery if the order is placed and paid before 12pm local recipient's time.
Depending on the time of year, the availability of certain sorts of flowers in different regions may be reduced. Additionally, flowers of certain shades may be unavailable on the delivery date. We do our best to keep the original sort, size and color range of requested flower, however some deviations are allowed to occur.
Buy yellow tulips apiece
Looking for a way to buy a bouquet of flowers for less? Cyber Florist gives you this opportunity - just choose a specific flower kind and order in the required quantity. In this case, you would not have to overpay for any options: a basket, a vase, additional greens - this all is not included in the base price and can be added only at your request. On this page, we offer yellow tulips.
Different shades have their own cultural meanings. Despite the popular song from the 90s, yellow tulips are by no means the messengers of a separation. Contrarily, this warm color represents care and attention. An excellent bouquet of flowers for a woman you are gently caring for and would like to charm. In addition, due to its calm appearance, such a gift is suitable for congratulate your family members or friends.
Ordering tulips with urgent delivery for the nearest date is not possible all year round. These are seasonal flowers, massively grown in the spring. The highest demand falls on International Women's Day, and systematic supplies continue for several months after it. Out of season, we recommend buying these flowers in advance so that the florist has the opportunity to pre-order and get the buds and shades you need.
Of course, along with yellow, we suggest you to buy a bouquet of white tulips or to order a red tulips bouquet. Moreover, in terms of price they do not differ from each other. Therefore, if necessary, you can ask us to mix 2-3 different colors via order comments that we do not miss in any case.
Thank you very much for the wonderful service and selection of gifts. I often use the Cyber Florist company for orders to Russia, and all of the arrangements that I have every ordered have always been delivered on time and looked exactly as described. The communication with the team has also been very good. I would definitely recommend this service to anyone!
Just want to send you another note to thank everyone again, for DLE-50423045, and for all of the orders that you have completed for me, this year. The service provided, has been exceptional. The flower shop(s) that has completed the work, has not only made the the flower arrangements special, but there unique touch from time to time, including hand written messages on specially decorated cards, has made each order a joy to discover. There have been many orders, but with every one, the flowers have been of good quality and very fresh. And their delivery drivers, completely changing directions and cities, sometimes, to get the flowers to where ever Albina was, because she had already left the house. It is a bit unsettling to be ordering flowers from the other side of the world and risk a terrible outcome, because that special moment can not be replayed. However your team of people have made it reassuring to order, knowing the best possible outcome, will always be achieved. Of course the biggest indication that you are being successful, is the smiles you have brought to Albina's face with every delivery. She has been impressed with each one. For all of this, and for all of you, a really big THANK YOU. I love and miss Albina dearly, and you have helped me show her this, time and again.
I LIVE IN UK, IN THE MORNING ORDERED A GORGEOUS FLOWERS FOR MY MOTHER WHO LIVES IN A VERY RURAL AREA IN RUSSIA, IT TOOK LESS THAN 7 HOURS FOR THE PARCEL TO GET DELIVERED!! I AM REALLY HAPPY VERY SATISFIED CUSTOMER, COULNDT WISH FOR MORE!! GREAT PRICE, GREAT SELECION , GREAT AND SPEEDY DELIVERY AND SERVICE ! CUSTOMER ADVISER VYACHESLAV DID PROVIDE A GREAT SERVICE AND BEEN REALLY HELPFULL, THANKYOU !
Hi, Thanks for your great service! Regards,
I sent red roses to my wife in Moscow, Russia for her birthday and they were delivered exactly when required. I'm very impressed! The delivery guy called my wife to confirm delivery information and the flowers looked GREAT! I will definitely use this service again. 5 Stars!
You have always done such a wonderful job with my Nastya, I truly appreciate your service.
Many thanks you have done an excellent job with this order, Imwould recommend your services to anyone, again thank you !
Thank you! You re amazing guys! Just conquered a new costumer here! Sure i ll request your services from now on... just need to look to my princess smile:))))) Best regards
Thank you for delivering promptly and on time. I will surely use your service in the future again