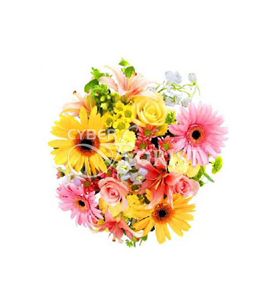 Like this? Share it with your friends
Small: 2 pink roses 1 yellow rose 1 pink gerbera 1 yellow gerbera 1 pink lily 5 spray chrysanthemums Greens Wrapping Basic: 2 pink roses 1 yellow rose 2 pink gerberas 2 yellow gerberas 1 pink lily 9 spray chrysanthemums Greens Wrapping Large: 3 pink roses 2 yellow roses 3 pink gerberas 3 yellow gerberas 2 pink lilies 10 spray chrysanthemums Greens Wrapping
Standard delivery time is 1 day. We guarantee same-day delivery if the order is placed and paid before 12pm local recipient's time.
Depending on the time of year, the availability of certain sorts of flowers in different regions may be reduced. Additionally, flowers of certain shades may be unavailable on the delivery date. Thus the delivery of an arrangement quite identical to the one shown on the web-site may be impossible. In this case our local florists will deliver a similar or a higher value arrangement. We do our best to keep the original shape, size and color range of requested bouquet, however some deviations are allowed to occur.
Buy a bouquet of lilies, gerberas, chrysanthemums and roses
"Rays of Sun" is one of the lightest and most welcoming bouquets in our collection and an excellent choice for flower delivery to home. Its appearance is fully consistent with the name: the gift seems to shine with some inner light. The warm color scheme would convey your best wishes to any recipient: husband or wife, friend or colleague, children or parents.
You have the opportunity to choose a small, medium or large bouquet of lilies with multi-colored gerberas, spray chrysanthemums and tall single-headed roses. Moreover, you are free to buy flowers online at any time, 24 hours a day, by placing your order for the nearest or any convenient subsequent date. You can add to the set such options as a glass vase, candy, soft toy, balloons, cake, or any combination of the above.
An equally joyful but more representative and luxurious bouquet of lilies and chrysanthemums offers an even richer range of bright summer shades. Alternatively, choose the "Congratulation" monochromatic yellow bouquet of lilies, chrysanthemums and gerberas to share positive emotions in a more modest but no less friendly way.
Just want to send you another note to thank everyone again, for DLE-50423045, and for all of the orders that you have completed for me, this year. The service provided, has been exceptional. The flower shop(s) that has completed the work, has not only made the the flower arrangements special, but there unique touch from time to time, including hand written messages on specially decorated cards, has made each order a joy to discover. There have been many orders, but with every one, the flowers have been of good quality and very fresh. And their delivery drivers, completely changing directions and cities, sometimes, to get the flowers to where ever Albina was, because she had already left the house. It is a bit unsettling to be ordering flowers from the other side of the world and risk a terrible outcome, because that special moment can not be replayed. However your team of people have made it reassuring to order, knowing the best possible outcome, will always be achieved. Of course the biggest indication that you are being successful, is the smiles you have brought to Albina's face with every delivery. She has been impressed with each one. For all of this, and for all of you, a really big THANK YOU. I love and miss Albina dearly, and you have helped me show her this, time and again.
Hi, Its so nice of you , I highly appreciate your services and your dealing with customers , I will be using cyber-Florist for future orders :) Regards
Thanks you guys. I really appreciate it. I really recommend everyone to sick their help when u want a good job to be done. They care about their customers and they know what they do. They did my delivery on the same day. My dad was more than happy. Thanks thanks thanks. I will look forward to work with you again 👌👏
Great Service, Delivered on the day i Requested in Lithuania. Client was incredibly happy and so am i! will absolutely be using you again for all our client birthdays!! thank you!
The order looks great and I appreciate what you guys do. I will continue to use your service. Thank You
Wow-what a great service, Thank you so much, it only took a couple of hours and my gift was delivered and much appreciated. I won't hesitate to use your service again.
I am very impressed. Last night, I ordered flowers for my cousins in Poland who just lost their mother and grandmother. I requested that the flowers be delivered the next day. Not only were the flowers delivered as promised, but they were also of great quality. My cousins sent me a picture of the bouquet, and it was gorgeous. Thank you!
Cyber-florist thank you so much... Great service. Its my first order and i am so happy i made this transaction with you... This is a very important occasion for my beloved and you made our day.. Perfect flowers exactly like on the webpage... The toy is very cute.. Kudos for your team.. Keep up the good work.. Looking forward for another order... I love you guys...
Today I sent my wife in Bishkek flowers and champagne and chocolates ...I wish to thank you on all your excellent service .. your service is the best I have encountered regards