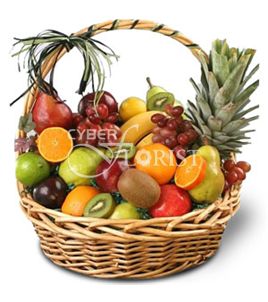 Like this? Share it with your friends
Apples Pears Oranges Kiwifruit Bananas Grapes 1 pineapple Basket Net weight is 13 lbs
Standard delivery time is 1 day. We guarantee same-day delivery if the order is placed and paid before 12pm local recipient's time.
Appearance and brands may vary according to the assortment of a certain region. Our general responsibility is keeping quality and integrity of items delivered.
Good morning, I just wanted to let you know how happy I am with your service. Great and timely customer service in Stary Oskol. Flowers were beautiful and my parents really liked the balloons idea :) good selection of champagne and chocolate brand. I appreciate and will use your company again!
I received a photo of the flower bouquet you delivered to Nataliya. It looks great and Nataliya was very pleased with it. I want to thank you for the good job you did and for the good result.
I live in Colombia and bought a gift for a friend of mine in Russia, although I was a little scared of using my credit card, I did it and was surprised by the good service and punctuality of the company. I received all the notifications and the picture of my friend with the gift. Thank you so much guys for your excellent service and I will recommend you and will use you in the future again, no doubt about it!
Thank you, and thanks for the wonderful service and beautiful flowers. I live and work in Saudia Arabia and it is nice to have you there like my own personal shopper for birthdays, anniversaries, special occasions, our sons birthday and his first day of school celebrations.
Thank you very much for the update and prompt delivery. Flowers look lovely! & so do the gifts. Enjoy your day.
Hi, Thank you so much. much appreciated your quick service. Kind regards,
Hello good morning! just received a message from her, and she is extremely happy with the flowers she got! Thank you very much for this :) Indeed, such a nice service!!!!!
Thank you guys,she loved the roses and chocolate 👍
Just want to send you another note to thank everyone again, for DLE-50423045, and for all of the orders that you have completed for me, this year. The service provided, has been exceptional. The flower shop(s) that has completed the work, has not only made the the flower arrangements special, but there unique touch from time to time, including hand written messages on specially decorated cards, has made each order a joy to discover. There have been many orders, but with every one, the flowers have been of good quality and very fresh. And their delivery drivers, completely changing directions and cities, sometimes, to get the flowers to where ever Albina was, because she had already left the house. It is a bit unsettling to be ordering flowers from the other side of the world and risk a terrible outcome, because that special moment can not be replayed. However your team of people have made it reassuring to order, knowing the best possible outcome, will always be achieved. Of course the biggest indication that you are being successful, is the smiles you have brought to Albina's face with every delivery. She has been impressed with each one. For all of this, and for all of you, a really big THANK YOU. I love and miss Albina dearly, and you have helped me show her this, time and again.