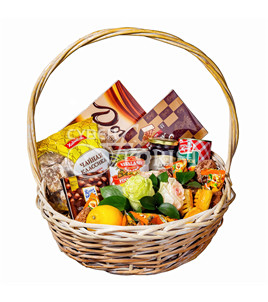 Like this? Share it with your friends
Pinapple slices in syrup Peach slices in syrup Gingerbread cookies Mini Croissants Ritter Sport chocolates bar 2 chocolate boxes Lingonberry jam Lemon 3 rose Basket
Standard delivery time is 1 day. We guarantee same-day delivery if the order is placed and paid before 12pm local recipient's time.
Appearance and brands may vary according to the assortment of a certain region. Our general responsibility is keeping quality and integrity of items delivered.
Gift basket of sweets and fruits with delivery
This is a win-win gift option for relatives, especially for children or nephews.
The 'Sweet Carousel' basket brings together different types of chocolate, fruits in syrup, sweet pastries, fresh fruits and jam. A set specifically for a delicious tea party.
The basket is assembled and decorated beautifully, so it will not only sweeten the holiday, but also decorate the festive table.
Order a 'Sweet Carousel' gift basket with delivery to any city in the world on the site.
Contact our support team if you have any problems placing an order.
Perfect. I placed my order from America to deliver to my fiance in St Petersburg, Russia and they delivered a perfect arrangement exactly as promised. Wonderful service especially with all the ignorance in the west making simply living difficult. Thank you for making my fiance (and me) very happy.
Thank you, and thanks for the wonderful service and beautiful flowers. I live and work in Saudia Arabia and it is nice to have you there like my own personal shopper for birthdays, anniversaries, special occasions, our sons birthday and his first day of school celebrations.
Just want to send you another note to thank everyone again, for DLE-50423045, and for all of the orders that you have completed for me, this year. The service provided, has been exceptional. The flower shop(s) that has completed the work, has not only made the the flower arrangements special, but there unique touch from time to time, including hand written messages on specially decorated cards, has made each order a joy to discover. There have been many orders, but with every one, the flowers have been of good quality and very fresh. And their delivery drivers, completely changing directions and cities, sometimes, to get the flowers to where ever Albina was, because she had already left the house. It is a bit unsettling to be ordering flowers from the other side of the world and risk a terrible outcome, because that special moment can not be replayed. However your team of people have made it reassuring to order, knowing the best possible outcome, will always be achieved. Of course the biggest indication that you are being successful, is the smiles you have brought to Albina's face with every delivery. She has been impressed with each one. For all of this, and for all of you, a really big THANK YOU. I love and miss Albina dearly, and you have helped me show her this, time and again.
Thank you very much for your service, I will definitely be using it again. Have a very good day.
Fernando Fernández Rodríguez
Thank you very much for the update and prompt delivery. Flowers look lovely! & so do the gifts. Enjoy your day.
Wow-what a great service, Thank you so much, it only took a couple of hours and my gift was delivered and much appreciated. I won't hesitate to use your service again.
Thank You again for a job well done. Olga loved the arrangement. i will be in touch with you again in January. Olga has a birthday and it will be 10 years that we have been together on 20 January. Thank You again. she was very surprised and happy.
What a great service this company provides!!! Just amazing. I had 51 roses, Champaign, balloons, cake and chocolates delivered to my parents for their anniversary in Russia. Everything was fresh and "top notch ". Delivered on time as it was advised prior. I have used this company 3 times by now and will definitely continue doing so!!!
Very impressed! I needed to send flowers internationally to Poland and researched many sites prior to ordering from cyber-florist. Reviews from the other sites were not encouraging, but the many reviews for cyber-florist were very favorable, so I decided to take a chance on them. Ordered flowers, balloons, wine, and cake yesterday to be delivered today. The site was easy to maneuver and ordering was easy. I received emails letting me know when the order was in-progress and done. The delivery was on time, and everything looked great (from the pictures I received from the recipient)! Thanks for doing such a great job for this special occasion!!