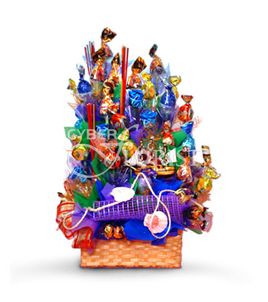 Like this? Share it with your friends
Sweets and candies by local brands Basket Dimensions: Length - 12 in. Width - 18 in. Height - 8 in.
It may take 2-3 days for this product to be delivered. Please make sure the order is placed in advance.
Appearance and brands may vary according to the assortment of a certain region. Our general responsibility is keeping quality and integrity of items delivered.
Buy a bouquet of chocolates and fruits as a gift with delivery
A trendy and modern bouquet of sweets and fruits will be an excellent decoration for any occasion.
Order the delivery of a bouquet of sweets for a loved one to cheer him up or congratulate him on a memorable date.
A bouquet of sweets is a very pleasant and unusual gift. Such a gift will not go unnoticed by the recipient.
It is not difficult to please your loved ones - order the delivery of sweet gifts from Cyber ​​Florist. Place and pay for your order online, and we take care of the rest.
Specify the city and date of delivery, fill in all the details of the recipient, and make an online payment directly on the site.
she was very pleased with the gifts, thank you very much for your helpful service. Thank You
Thanks a lot for Cyber Florist team! Great professional service! I ordered food basket from NY to Moscow. Next day delivery, reasonable price for such a good fresh food! Will recommend to my friends and will use it for myself.Great customer service! Thanks a lot!
Thankyou for your fantastic service.You saved a man from the wrath of a woman.She is so pleased with the gift and Roses .Thankyou again. I have always been impressed by your service.
Today I sent my wife in Bishkek flowers and champagne and chocolates ...I wish to thank you on all your excellent service .. your service is the best I have encountered regards
Thank you, guys, so much, for everything you do. My family in Vilnius is very happy with the food sets they have received today. You Rock! From my Family to yours - Wishing you and your family a Happy New year; filled with joy, adventures, opportunities and prosperities!! Happy New Year!
What a great service this company provides!!! Just amazing. I had 51 roses, Champaign, balloons, cake and chocolates delivered to my parents for their anniversary in Russia. Everything was fresh and "top notch ". Delivered on time as it was advised prior. I have used this company 3 times by now and will definitely continue doing so!!!
Thank you very much for the update and prompt delivery. Flowers look lovely! & so do the gifts. Enjoy your day.
I want to thank all of you for this great service , I want to thank you for the happiness moments you give us! You are always the best of the best!
Perfect. I placed my order from America to deliver to my fiance in St Petersburg, Russia and they delivered a perfect arrangement exactly as promised. Wonderful service especially with all the ignorance in the west making simply living difficult. Thank you for making my fiance (and me) very happy.