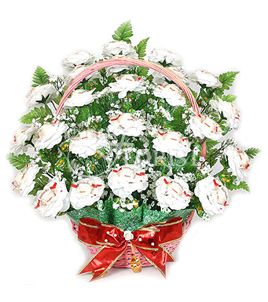 Like this? Share it with your friends
Rafaello candies - 25 pcs Lollipops - 50 pcs
It may take 2-3 days for this product to be delivered. Please make sure the order is placed in advance.
Appearance and brands may vary according to the assortment of a certain region. Our general responsibility is keeping quality and integrity of items delivered.
"Tenderness" - bright candy bouquet with Rafaello and Lollipops. Best choice for the birthday!. 24x7 support 1-888-558-0535.
Great service and 5 out of 5 Stars for your work taking time finding details presenting the flowers and using quality products. Will recomment your service. Best from Norway
Dear Slava, You did your job perfectly and I appreciate it! see below: >Darling thank you very much >The flowers are so beautiful, so tender, so gorgeous >This is the best bouquet 💐 in my life >Now I am happy darling, now I am very happy 💕💕💕💕❤️
Thank you! You re amazing guys! Just conquered a new costumer here! Sure i ll request your services from now on... just need to look to my princess smile:))))) Best regards
As always I'm so pleased with your services, flowers arrived in perfect time. Thank you so much. I wish all of you and your staff a Happy New Year 2015. You guys are awesome.
Good morning, I just wanted to let you know how happy I am with your service. Great and timely customer service in Stary Oskol. Flowers were beautiful and my parents really liked the balloons idea :) good selection of champagne and chocolate brand. I appreciate and will use your company again!
Today I sent my wife in Bishkek flowers and champagne and chocolates ...I wish to thank you on all your excellent service .. your service is the best I have encountered regards
Thank you very much for your service, I will definitely be using it again. Have a very good day.
Fernando Fernández Rodríguez
Great Service, Delivered on the day i Requested in Lithuania. Client was incredibly happy and so am i! will absolutely be using you again for all our client birthdays!! thank you!
I am so thrilled! She messaged me with more excitement than I've ever heard! Needless to say, I will be using your service for many times to come!!