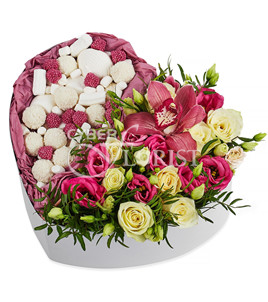 Like this? Share it with your friends
10 Roses 2 Lisianthuses 1 Orchid Greenery Various sweets Wrapping Oasis Heart-shaped box Sweets weight approx 560 gr.
It may take 2-3 days for this product to be delivered. Please make sure the order is placed in advance.
Appearance and brands may vary according to the assortment of a certain region. Our general responsibility is keeping quality and integrity of items delivered.
Buy a composition of roses and sweets in a box with delivery
Two halves is an unusual and romantic composition. One half of the composition consists of luxurious fresh flowers and greenery. The other half consists of sweets.
Half edible and sweet, and half romantic and addictive. Order delivery of this arrangement of flowers and sweets in a box for your soul mate.
Cyber ​​Florist delivers compositions in boxes all over the world. Order delivery of flowers and sweets in a box online at Cyber-Florist.ru
Submit your order details online, pay for your order online and let us take care of the rest. We will deliver the gift to the recipient in the city you specified on the right day.
Exceptional service I am very pleased and so is my father I would highly recommend your webside to all my friends
I want to thank all of you for this great service , I want to thank you for the happiness moments you give us! You are always the best of the best!
Thank you very much for the wonderful service and selection of gifts. I often use the Cyber Florist company for orders to Russia, and all of the arrangements that I have every ordered have always been delivered on time and looked exactly as described. The communication with the team has also been very good. I would definitely recommend this service to anyone!
Thank you, and thanks for the wonderful service and beautiful flowers. I live and work in Saudia Arabia and it is nice to have you there like my own personal shopper for birthdays, anniversaries, special occasions, our sons birthday and his first day of school celebrations.
Thank you very much for your service, I will definitely be using it again. Have a very good day.
Fernando Fernández Rodríguez
Great service... ill book with uall again..
Thank u so much. U r a great site thanks)))
Hello good morning! just received a message from her, and she is extremely happy with the flowers she got! Thank you very much for this :) Indeed, such a nice service!!!!!
Thank You for working hard and helping me! Wonderful experience! Thanks!