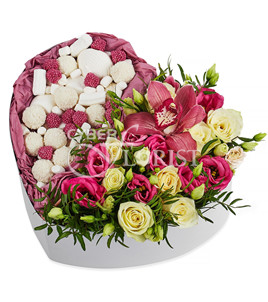 Like this? Share it with your friends
10 Roses 2 Lisianthuses 1 Orchid Greenery Various sweets Wrapping Oasis Heart-shaped box Sweets weight approx 560 gr.
It may take 2-3 days for this product to be delivered. Please make sure the order is placed in advance.
Appearance and brands may vary according to the assortment of a certain region. Our general responsibility is keeping quality and integrity of items delivered.
Buy a composition of roses and sweets in a box with delivery
Two halves is an unusual and romantic composition. One half of the composition consists of luxurious fresh flowers and greenery. The other half consists of sweets.
Half edible and sweet, and half romantic and addictive. Order delivery of this arrangement of flowers and sweets in a box for your soul mate.
Cyber ​​Florist delivers compositions in boxes all over the world. Order delivery of flowers and sweets in a box online at Cyber-Florist.ru
Submit your order details online, pay for your order online and let us take care of the rest. We will deliver the gift to the recipient in the city you specified on the right day.
Very impressed! I needed to send flowers internationally to Poland and researched many sites prior to ordering from cyber-florist. Reviews from the other sites were not encouraging, but the many reviews for cyber-florist were very favorable, so I decided to take a chance on them. Ordered flowers, balloons, wine, and cake yesterday to be delivered today. The site was easy to maneuver and ordering was easy. I received emails letting me know when the order was in-progress and done. The delivery was on time, and everything looked great (from the pictures I received from the recipient)! Thanks for doing such a great job for this special occasion!!
Exceptional service I am very pleased and so is my father I would highly recommend your webside to all my friends
I am so thrilled! She messaged me with more excitement than I've ever heard! Needless to say, I will be using your service for many times to come!!
Thank you so much for your service! I ordered perfume and few other gifts and she was so happy! This is a very convenient service. I will definitely use your company for future holidays and recommend to my friends.
I am very impressed. Last night, I ordered flowers for my cousins in Poland who just lost their mother and grandmother. I requested that the flowers be delivered the next day. Not only were the flowers delivered as promised, but they were also of great quality. My cousins sent me a picture of the bouquet, and it was gorgeous. Thank you!
I would like to thank you Denis-administrator and all the team for your continued support to ensure my delivery in Russia took place after a few teething problems. ! Your response rate to my emails was excellent! Thank you once again and A Very Merry Christmas to you all.
I received a photo of the flower bouquet you delivered to Nataliya. It looks great and Nataliya was very pleased with it. I want to thank you for the good job you did and for the good result.
Thank you for delivering promptly and on time. I will surely use your service in the future again
I have used a lot of online flower delivery services but Cyber Florist has exceeded my expectations. I ordered flowers and chocolate for my wife (who is abroad with her family at the moment) and the flowers were in great condition. The customer service was amazing as well! Slava was attentive to all my questions about the time and delivery and any other questions I had to ask. I will definitely continue ordering from Cyber Florist the future.