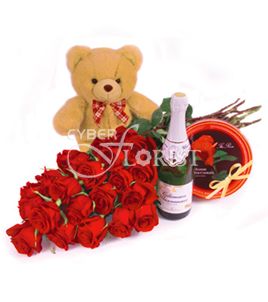 Like this? Share it with your friends
Red roses Teddy-bear Box of cookies Bottle of sparkling wine
Standard delivery time is 1 day. We guarantee same-day delivery if the order is placed and paid before 12pm local recipient's time.
Appearance and brands may vary according to the assortment of a certain region. Our general responsibility is keeping quality and integrity of items delivered.
Buy red roses with a bottle of sparkling wine, cookies and a teddy bear
This one is an ambulance for emergency mood improvement! If your beloved one is depressed, sad or simply misses you, urgent flower delivery with tasty add-ons should quickly make things better.
The composition of the gift is very simple and includes a bouquet of red roses, a bottle of high-quality sparkling wine, a tin can of cookies and a charming teddy bear. This allows us to quickly prepare such a set for even same-day delivery. Feel free to choose the number of roses from single to huge, according to your budget.
The item is suitable for everyone who is looking for a flower bouquet for a lady on Valentine's Day or other romantic holidays as it would not only bring the magical moment of reception but a whole pleasant evening at once. And the roses would last for at least a few days, pleasing the recipient and reminding of you.
A more affordable alternative is this bouquet of roses and chrysanthemums: small, but including chocolates and a wine bottle as well. You can add a bear there but for a surcharge. On the contrary, a more luxurious option would be a set in which a large teddy bear and a bouquet of flowers are complemented by premium Ferrero Rocher chocolates and world-famous Asti Martini sparkling wine.
Order flowers and gifts delivery on Cyber Florist website, for a holiday or for no reason at all. We are glad to all our clients and we are equally ready to help with an order for any budget.
Thank you very much for outstanding and customer oriented service
Thank you, and thanks for the wonderful service and beautiful flowers. I live and work in Saudia Arabia and it is nice to have you there like my own personal shopper for birthdays, anniversaries, special occasions, our sons birthday and his first day of school celebrations.
The order looks great and I appreciate what you guys do. I will continue to use your service. Thank You
Exceptional service I am very pleased and so is my father I would highly recommend your webside to all my friends
Great service and 5 out of 5 Stars for your work taking time finding details presenting the flowers and using quality products. Will recomment your service. Best from Norway
Thank u so much. U r a great site thanks)))
I have an account with you and used your service for the first time recently. I am here to say I AM VERY PLEASED! Your delivery was on time, the flowers and vase were very beautiful (my lady was VERY impressed) and everything was wonderful. Thank you. I will be sure to use your service again. :-)
First time using your online store to order. YOU HIT IT IN THE PARK. PLEASE CONTINUE YOUR GREAT CUSTOMER SUPPORT, PAST DELIVERY PHOTOS SHOWS YOUR BUSINESS IS AN EXCELLENT PROVIDER OF GREAT CUSTOMER SERVICE. Used other Philippine online flower store in the past, THEY CHEATED THEIR CUSTOMERS BY SUBSTITUTING FLOWERS OR SOMETIMES SENDING WILTED FLOWERS KNOWING THAT SENDERS WILL NOT KNOW. I ALWAYS SEND THEM A PUTANG INA MESSAGE.
Today I sent my wife in Bishkek flowers and champagne and chocolates ...I wish to thank you on all your excellent service .. your service is the best I have encountered regards