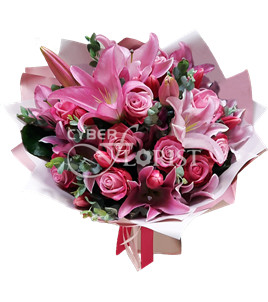 Like this? Share it with your friends
Small: 1 Stargazer lily 5 pink roses 5 pink tulips Greens Wrapping Basic: 3 Stargazer lilies 7 pink roses 9 pink tulips Greens Wrapping
Standard delivery time is 1 day. We guarantee same-day delivery if the order is placed and paid before 12pm local recipient's time.
Depending on the time of year, the availability of certain sorts of flowers in different regions may be reduced. Additionally, flowers of certain shades may be unavailable on the delivery date. Thus the delivery of an arrangement quite identical to the one shown on the web-site may be impossible. In this case our local florists will deliver a similar or a higher value arrangement. We do our best to keep the original shape, size and color range of requested bouquet, however some deviations are allowed to occur.
Buy a bouquet of Stargazer lilies, roses, and tulips
Possessing an exceptional appearance, the Stargazer lily can play only the main role in any arrangement and hold the most conspicuous place. We followed this way, creating a bouquet with a lily and other flowers and calling it Starry-Eyed. The complementary components here are roses and tulips, both pale pink to match the main star.
The gift is not made to suit exact occasions and therefore has a versatile use: a flower bouquet for a lady, warm greetings for the family, or congratulations for the boss — decide for yourself! And even when you need cheap flower delivery, a small version with an affordable price tag would come to your rescue.
You can find the same flower in a more colorful and variegated bouquet of lilies, roses, and gerberas named Queen of the East. Although it stands out for its solid price as well, so if you are looking for the most affordable options, we advise you to take a look at the bouquet of white lilies and red roses, kindly called Loving Heart.
Fernando Fernández Rodríguez
Dear Slava, You did your job perfectly and I appreciate it! see below: >Darling thank you very much >The flowers are so beautiful, so tender, so gorgeous >This is the best bouquet 💐 in my life >Now I am happy darling, now I am very happy 💕💕💕💕❤️
Best international flower delivery service I've ever used. The customer service was beyond excellent. They were always quick to respond and very polite and informative regardless of the time of day. I have absolutely no complaints. Even through a pandemic I was able to send gorgeous flowers to my loved ones located in a very rural town in a different country. Well worthy every penny. Cyber-florist will be my to go to website for flower delivery every time now. I 100% recommend. Thank you so much Cyber-Florist!
I would like to thank you Denis-administrator and all the team for your continued support to ensure my delivery in Russia took place after a few teething problems. ! Your response rate to my emails was excellent! Thank you once again and A Very Merry Christmas to you all.
Thank you, guys, so much, for everything you do. My family in Vilnius is very happy with the food sets they have received today. You Rock! From my Family to yours - Wishing you and your family a Happy New year; filled with joy, adventures, opportunities and prosperities!! Happy New Year!
The recipient was delighted with her flowers, and therefore I am delighted with your service to me. You can be sure that I will both return to you and send others to you.
Thank you very much for the wonderful and curtious service. Mila is very happy with the arrangement !! Obviously I will return with more business in the future!! Respectively,
I received a photo of the flower bouquet you delivered to Nataliya. It looks great and Nataliya was very pleased with it. I want to thank you for the good job you did and for the good result.
You have always done such a wonderful job with my Nastya, I truly appreciate your service.
My mother was in hospital when I placed the order. At that time I didn't know that she was in hospital, so I asked to deliver to her home address. As soon as I found out that my mom wasn't home, I sent the message from my profile notifying the company that my mother was in hospital. How I was surprised when an hour later I got the delivery photo in my email! They had delivered the gift in the hospital! My mother was extremely surprised and happy! Thank you!