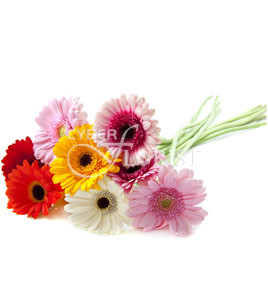 Like this? Share it with your friends
Gerberas of various colors
Standard delivery time is 1 day. We guarantee same-day delivery if the order is placed and paid before 12pm local recipient's time.
Depending on the time of year, the availability of certain sorts of flowers in different regions may be reduced. Additionally, flowers of certain shades may be unavailable on the delivery date. We do our best to keep the original sort, size and color range of requested flower, however some deviations are allowed to occur.
Thank you, everyone, for all your help! This was a great experience getting flowers and having all my question answered plus little request met. Thank you again!!
Words cant thank enough for the fast service , very professional staff and an ability to understand , work with different client's requests. I would never look any further if I have to send little love from far away one more time. I would personally recommend cyber-florist. Thank you very much for all extra miles. sincerely yours, Elena
Just want to send you another note to thank everyone again, for DLE-50423045, and for all of the orders that you have completed for me, this year. The service provided, has been exceptional. The flower shop(s) that has completed the work, has not only made the the flower arrangements special, but there unique touch from time to time, including hand written messages on specially decorated cards, has made each order a joy to discover. There have been many orders, but with every one, the flowers have been of good quality and very fresh. And their delivery drivers, completely changing directions and cities, sometimes, to get the flowers to where ever Albina was, because she had already left the house. It is a bit unsettling to be ordering flowers from the other side of the world and risk a terrible outcome, because that special moment can not be replayed. However your team of people have made it reassuring to order, knowing the best possible outcome, will always be achieved. Of course the biggest indication that you are being successful, is the smiles you have brought to Albina's face with every delivery. She has been impressed with each one. For all of this, and for all of you, a really big THANK YOU. I love and miss Albina dearly, and you have helped me show her this, time and again.
Wow-what a great service, Thank you so much, it only took a couple of hours and my gift was delivered and much appreciated. I won't hesitate to use your service again.
Thanks for the service and attention. Flowers were beautiful and She loved them!. Also thanks for helping me with the request and also with the delivery and congratulations, I'll definetely will continue using your services. Please feel free to send me news about your site. I will recomend you!.
Great service and 5 out of 5 Stars for your work taking time finding details presenting the flowers and using quality products. Will recomment your service. Best from Norway
THANK YOU GUYS FOR SUCH GREAT SERVICE!!! WISH YOU HAPPY NEW YEAR AND LOTS AND LOTS OF CLIENTS! PLEASE DONT STOP YOUR SERVICE ;) PS I WILL RECOMMEND YOU TO ALL PEOPLE
Best international flower delivery service I've ever used. The customer service was beyond excellent. They were always quick to respond and very polite and informative regardless of the time of day. I have absolutely no complaints. Even through a pandemic I was able to send gorgeous flowers to my loved ones located in a very rural town in a different country. Well worthy every penny. Cyber-florist will be my to go to website for flower delivery every time now. I 100% recommend. Thank you so much Cyber-Florist!
she was very pleased with the gifts, thank you very much for your helpful service. Thank You