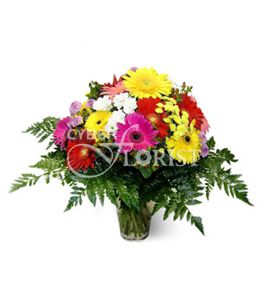 Like this? Share it with your friends
Small: Yellow, red and purple gerberas - 6 Spray chrysanthemums of different colors - 3 Hipericum Fern Basic: Yellow, red and purple gerberas - 10 Spray chrysanthemums of different colors - 5 Hipericum Fern Large: Yellow, red and purple gerberas - 14 Spray chrysanthemums of different colors - 7 Hipericum Fern
Standard delivery time is 1 day. We guarantee same-day delivery if the order is placed and paid before 12pm local recipient's time.
Depending on the time of year, the availability of certain sorts of flowers in different regions may be reduced. Additionally, flowers of certain shades may be unavailable on the delivery date. Thus the delivery of an arrangement quite identical to the one shown on the web-site may be impossible. In this case our local florists will deliver a similar or a higher value arrangement. We do our best to keep the original shape, size and color range of requested bouquet, however some deviations are allowed to occur.
Buy a bouquet of mixed color chrysanthemums and gerberas with greens
Gerberas and chrysanthemums always look as cute and friendly as possible, especially if their different shades are gathered together. It would be a very nice bouquet for a girlfriend, family member, friend, or even a work colleague. The variegated coloring also indicates: this can be congratulation on anything, for any reason.
|The "Miranda" bouquet of spray chrysanthemums and multi-colored gerberas is available in small, medium and large sizes. Furthermore, any of them contains bright hypericum berries and soft fern leaves. The ways to modify the gift do not end there: for an additional fee, you can place those flowers in a vase or send them with the addition of a plush toy, chocolates, a cake or a bunch of five balloons.
An economical alternative, free of any add-ons, would be a bouquet of multicolored spray chrysanthemums for which you can freely choose a custom number of stems: from one and to your own limit. If you are looking for a way to express romantic feelings with these flowers, then we advise you to take a look at the "Duet" bouquet of white and red roses.
Today online flower delivery has become an easy and convenient service to congratulate the people dear and close to you. Select the gift you like, place an order with instant online payment, and we will promptly handle it to recipients in almost any city or country in the world.
Thank you, and thanks for the wonderful service and beautiful flowers. I live and work in Saudia Arabia and it is nice to have you there like my own personal shopper for birthdays, anniversaries, special occasions, our sons birthday and his first day of school celebrations.
Thank you very much! The order was delivered on time! All fruits are fresh! The surprise worked! Thanks again for your services!
I have used a lot of online flower delivery services but Cyber Florist has exceeded my expectations. I ordered flowers and chocolate for my wife (who is abroad with her family at the moment) and the flowers were in great condition. The customer service was amazing as well! Slava was attentive to all my questions about the time and delivery and any other questions I had to ask. I will definitely continue ordering from Cyber Florist the future.
Best international flower delivery service I've ever used. The customer service was beyond excellent. They were always quick to respond and very polite and informative regardless of the time of day. I have absolutely no complaints. Even through a pandemic I was able to send gorgeous flowers to my loved ones located in a very rural town in a different country. Well worthy every penny. Cyber-florist will be my to go to website for flower delivery every time now. I 100% recommend. Thank you so much Cyber-Florist!
Perfect. I placed my order from America to deliver to my fiance in St Petersburg, Russia and they delivered a perfect arrangement exactly as promised. Wonderful service especially with all the ignorance in the west making simply living difficult. Thank you for making my fiance (and me) very happy.
Wow-what a great service, Thank you so much, it only took a couple of hours and my gift was delivered and much appreciated. I won't hesitate to use your service again.
Thanks for a job well done. I was very pleased and will order through you again in the future. Sincerely,
Great service and 5 out of 5 Stars for your work taking time finding details presenting the flowers and using quality products. Will recomment your service. Best from Norway
she was very pleased with the gifts, thank you very much for your helpful service. Thank You