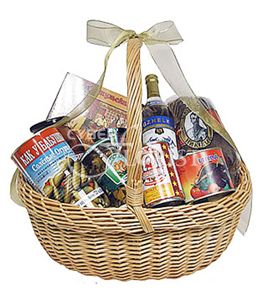 Like this? Share it with your friends
Marinated mushrooms, squash paste, a can of pickles, marinated tomatoes, brown bread, can of olives, herring fillet, veal meat roll, cheese, a can of braised beef, a bottle of vodka.
Standard delivery time is 1 day. We guarantee same-day delivery if the order is placed and paid before 12pm local recipient's time.
Appearance and brands may vary according to the assortment of a certain region. Our general responsibility is keeping quality and integrity of items delivered.
Buy a gift basket with delicacies and a bottle of vodka with delivery
The grocery basket will be an excellent addition to the festive table. Whatever the occasion of the holiday, it will be a very appropriate and valuable gift.
This grocery basket, made up of delicacies and a bottle of vodka, will not go unnoticed by the recipient.
You can order delivery of a basket with a bottle of vodka online directly on the website Cyber-Florist.ru
Specify the city and delivery date, pay for your order online, and we will take care of the rest.
We will make sure that your gift is delivered on time and right into the hands of the recipient.
Thanks a lot for Cyber Florist team! Great professional service! I ordered food basket from NY to Moscow. Next day delivery, reasonable price for such a good fresh food! Will recommend to my friends and will use it for myself.Great customer service! Thanks a lot!
Thank you so much for this! I appreciate. I Wish you prosper business!
Sanjeev kohli, New Delhi India
Very impressed! I needed to send flowers internationally to Poland and researched many sites prior to ordering from cyber-florist. Reviews from the other sites were not encouraging, but the many reviews for cyber-florist were very favorable, so I decided to take a chance on them. Ordered flowers, balloons, wine, and cake yesterday to be delivered today. The site was easy to maneuver and ordering was easy. I received emails letting me know when the order was in-progress and done. The delivery was on time, and everything looked great (from the pictures I received from the recipient)! Thanks for doing such a great job for this special occasion!!
Hello good morning! just received a message from her, and she is extremely happy with the flowers she got! Thank you very much for this :) Indeed, such a nice service!!!!!
Hi, Thanks for your great service! Regards,
First time using your online store to order. YOU HIT IT IN THE PARK. PLEASE CONTINUE YOUR GREAT CUSTOMER SUPPORT, PAST DELIVERY PHOTOS SHOWS YOUR BUSINESS IS AN EXCELLENT PROVIDER OF GREAT CUSTOMER SERVICE. Used other Philippine online flower store in the past, THEY CHEATED THEIR CUSTOMERS BY SUBSTITUTING FLOWERS OR SOMETIMES SENDING WILTED FLOWERS KNOWING THAT SENDERS WILL NOT KNOW. I ALWAYS SEND THEM A PUTANG INA MESSAGE.
Good morning, I just wanted to let you know how happy I am with your service. Great and timely customer service in Stary Oskol. Flowers were beautiful and my parents really liked the balloons idea :) good selection of champagne and chocolate brand. I appreciate and will use your company again!
Thank u so much. U r a great site thanks)))
Dear Slava, You did your job perfectly and I appreciate it! see below: >Darling thank you very much >The flowers are so beautiful, so tender, so gorgeous >This is the best bouquet 💐 in my life >Now I am happy darling, now I am very happy 💕💕💕💕❤️