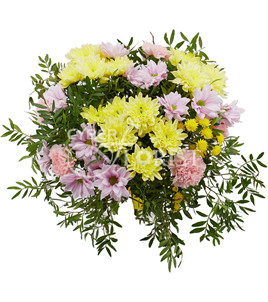 Like this? Share it with your friends
3 yellow spray chrysanthemums 3 purple spray chrysanthemums 3 yellow Stallion chrysanthemums 5 pink carnations Greenery
Standard delivery time is 1 day. We guarantee same-day delivery if the order is placed and paid before 12pm local recipient's time.
Depending on the time of year, the availability of certain sorts of flowers in different regions may be reduced. Additionally, flowers of certain shades may be unavailable on the delivery date. Thus the delivery of an arrangement quite identical to the one shown on the web-site may be impossible. In this case our local florists will deliver a similar or a higher value arrangement. We do our best to keep the original shape, size and color range of requested bouquet, however some deviations are allowed to occur.
Bouquet of colorful chrysanthemums with carnations and greenery
This bright and cheerful bouquet was created with one purpose - to cheer up the recipient and brighten up his day.
Send it to your loved one to give spring lightness and good mood!
Many thanks you have done an excellent job with this order, Imwould recommend your services to anyone, again thank you !
Great service and 5 out of 5 Stars for your work taking time finding details presenting the flowers and using quality products. Will recomment your service. Best from Norway
Best international flower delivery service I've ever used. The customer service was beyond excellent. They were always quick to respond and very polite and informative regardless of the time of day. I have absolutely no complaints. Even through a pandemic I was able to send gorgeous flowers to my loved ones located in a very rural town in a different country. Well worthy every penny. Cyber-florist will be my to go to website for flower delivery every time now. I 100% recommend. Thank you so much Cyber-Florist!
Thank You again for a job well done. Olga loved the arrangement. i will be in touch with you again in January. Olga has a birthday and it will be 10 years that we have been together on 20 January. Thank You again. she was very surprised and happy.
Perfect. I placed my order from America to deliver to my fiance in St Petersburg, Russia and they delivered a perfect arrangement exactly as promised. Wonderful service especially with all the ignorance in the west making simply living difficult. Thank you for making my fiance (and me) very happy.
I LIVE IN UK, IN THE MORNING ORDERED A GORGEOUS FLOWERS FOR MY MOTHER WHO LIVES IN A VERY RURAL AREA IN RUSSIA, IT TOOK LESS THAN 7 HOURS FOR THE PARCEL TO GET DELIVERED!! I AM REALLY HAPPY VERY SATISFIED CUSTOMER, COULNDT WISH FOR MORE!! GREAT PRICE, GREAT SELECION , GREAT AND SPEEDY DELIVERY AND SERVICE ! CUSTOMER ADVISER VYACHESLAV DID PROVIDE A GREAT SERVICE AND BEEN REALLY HELPFULL, THANKYOU !
Thank you! You re amazing guys! Just conquered a new costumer here! Sure i ll request your services from now on... just need to look to my princess smile:))))) Best regards
WOW thank you so much...The whole experience was fantastic...From the other side of the world 🇦🇺I'll be msg you all again..The flowers are beautiful,I hear the chocolate's are yummy...The photo almost made me cry What a great idea..Thank U all xx 🙏
Thanks for the service and attention. Flowers were beautiful and She loved them!. Also thanks for helping me with the request and also with the delivery and congratulations, I'll definetely will continue using your services. Please feel free to send me news about your site. I will recomend you!.