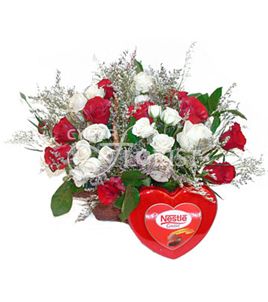 Like this? Share it with your friends
21 red and white roses Limonium Greens Basket Nestle chocolate box
Standard delivery time is 1 day. We guarantee same-day delivery if the order is placed and paid before 12pm local recipient's time.
Depending on the time of year, the availability of certain sorts of flowers in different regions may be reduced. Additionally, flowers of certain shades may be unavailable on the delivery date. Thus the delivery of an arrangement quite identical to the one shown on the web-site may be impossible. In this case our local florists will deliver a similar or a higher value arrangement. We do our best to keep the original shape, size and color range of requested bouquet, however some deviations are allowed to occur.
Buy a basket arrangement of roses with Nestle chocolates
This item truly is a universal gift. Firstly, it is a large bouquet of roses, suitable to share love with your soulmate. Secondly, the strict and elegant combination of red and white suggests that such flower delivery can be ordered to your business partners or office management. Thirdly, the decoration in a charming basket allows you to congratulate your relatives or close friends with the same set! And the box of finest Nestle chocolates (included in price) would undoubtedly delight the recipient from any of the three above categories.
The arrangement would be a wise choice if you are planning to buy a bouquet of flowers but not 100% sure if the recipient has a vase or another similar container. The thing is roses here are installed on Oasis - a special floral foam which — just like a sponge — retains water and prevents plants from quick withering, ensuring their fresh and nice look for at least a few days.
Additionally, we have another spectacular basket in red and white - a roses and lilies arrangement, with three sizes to choose from, including a compact and very economical one. If you are looking for a more direct romantic approach we recommend this basket of pink roses with baby's breath. Please note that both gifts, unlike the original one, come with no chocolates by default but you can always add a box of them as an additional option as well as a plush toy, a cake or balloons — all of that most probably would enhance the recipient's pleasant experience.
Cyber Florist works around the clock to be always ready to take your order, even if you need urgent same-day delivery in a faraway country.
Sanjeev kohli, New Delhi India
Words cant thank enough for the fast service , very professional staff and an ability to understand , work with different client's requests. I would never look any further if I have to send little love from far away one more time. I would personally recommend cyber-florist. Thank you very much for all extra miles. sincerely yours, Elena
Thank you so much for your service! I ordered perfume and few other gifts and she was so happy! This is a very convenient service. I will definitely use your company for future holidays and recommend to my friends.
she was very pleased with the gifts, thank you very much for your helpful service. Thank You
First time using your online store to order. YOU HIT IT IN THE PARK. PLEASE CONTINUE YOUR GREAT CUSTOMER SUPPORT, PAST DELIVERY PHOTOS SHOWS YOUR BUSINESS IS AN EXCELLENT PROVIDER OF GREAT CUSTOMER SERVICE. Used other Philippine online flower store in the past, THEY CHEATED THEIR CUSTOMERS BY SUBSTITUTING FLOWERS OR SOMETIMES SENDING WILTED FLOWERS KNOWING THAT SENDERS WILL NOT KNOW. I ALWAYS SEND THEM A PUTANG INA MESSAGE.
Thank you! You re amazing guys! Just conquered a new costumer here! Sure i ll request your services from now on... just need to look to my princess smile:))))) Best regards
What a great service this company provides!!! Just amazing. I had 51 roses, Champaign, balloons, cake and chocolates delivered to my parents for their anniversary in Russia. Everything was fresh and "top notch ". Delivered on time as it was advised prior. I have used this company 3 times by now and will definitely continue doing so!!!
Thank you, everyone, for all your help! This was a great experience getting flowers and having all my question answered plus little request met. Thank you again!!
I LIVE IN UK, IN THE MORNING ORDERED A GORGEOUS FLOWERS FOR MY MOTHER WHO LIVES IN A VERY RURAL AREA IN RUSSIA, IT TOOK LESS THAN 7 HOURS FOR THE PARCEL TO GET DELIVERED!! I AM REALLY HAPPY VERY SATISFIED CUSTOMER, COULNDT WISH FOR MORE!! GREAT PRICE, GREAT SELECION , GREAT AND SPEEDY DELIVERY AND SERVICE ! CUSTOMER ADVISER VYACHESLAV DID PROVIDE A GREAT SERVICE AND BEEN REALLY HELPFULL, THANKYOU !
I used this site to order flowers for someone I care deeply about in Russia that is in a hospital, and it was the EASIEST process ever. After calling the 888 number a few times for guidance and speaking to a polite Russian man that spoke English, I ordered the 'Fancy' basket at 1421 CST yesterday, May 26. (I had to use an emailed link to pay instead of directly through the website, so don't be hesitant if this is what you also have to do. The man said it's because my credit card is with an American company.) The basket was delivered at 0905 this morning, May 27! I am SO PLEASED with the service, speed, and cost of this service. I will 100% use them again. I am so glad I took a chance and used this website. Now that I know it's legitimate, I may even do one of the more expensive options next time. May God bless you all, and thank you again!