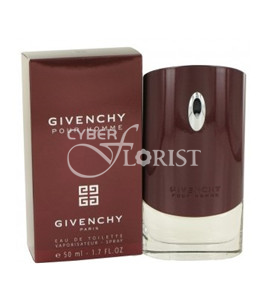 Like this? Share it with your friends
Givenchy Pour Homme Eau De Toilette
Standard delivery time is 1 day. We guarantee same-day delivery if the order is placed and paid before 12pm local recipient's time.
Appearance and brands may vary according to the assortment of a certain region. Our general responsibility is keeping quality and integrity of items delivered.
Buy Givenchy Pour Homme eau de toilette as a gift for a man with delivery
Eau de toilette delivery from Cyber ​​Florist is an excellent gift for a man for his birthday or anniversary. Eau de toilette will be an appropriate gift for other occasions.
Sending a gift to a man is easy, just two clicks. Order gift delivery online at Cyber-Florist.ru
Congratulate your beloved man or relative by sending him a gift with delivery.
Along with the eau de toilette, you can send additional gifts: balloons, a bouquet of flowers, a box of chocolates or even a cake.
Don't forget to leave your holiday greetings. We will print it on a beautiful postcard and deliver it to the recipient along with the gift.
The service was just exceptional, flowers were amazing and I was able with help of cyber florist to make a nice surprise for my mother on her birthday. I have never experienced such a great service. Certainly will come back for your services and will promote your actively in my inner circle.
I want to thank all of you for this great service , I want to thank you for the happiness moments you give us! You are always the best of the best!
Thankyou for your fantastic service.You saved a man from the wrath of a woman.She is so pleased with the gift and Roses .Thankyou again. I have always been impressed by your service.
Words cant thank enough for the fast service , very professional staff and an ability to understand , work with different client's requests. I would never look any further if I have to send little love from far away one more time. I would personally recommend cyber-florist. Thank you very much for all extra miles. sincerely yours, Elena
Ordered birthday flowers, sparkling wine,chocolates & cake only to have the cake not delivered which is very disappointing
Hello good morning! just received a message from her, and she is extremely happy with the flowers she got! Thank you very much for this :) Indeed, such a nice service!!!!!
Best international flower delivery service I've ever used. The customer service was beyond excellent. They were always quick to respond and very polite and informative regardless of the time of day. I have absolutely no complaints. Even through a pandemic I was able to send gorgeous flowers to my loved ones located in a very rural town in a different country. Well worthy every penny. Cyber-florist will be my to go to website for flower delivery every time now. I 100% recommend. Thank you so much Cyber-Florist!
First time using your online store to order. YOU HIT IT IN THE PARK. PLEASE CONTINUE YOUR GREAT CUSTOMER SUPPORT, PAST DELIVERY PHOTOS SHOWS YOUR BUSINESS IS AN EXCELLENT PROVIDER OF GREAT CUSTOMER SERVICE. Used other Philippine online flower store in the past, THEY CHEATED THEIR CUSTOMERS BY SUBSTITUTING FLOWERS OR SOMETIMES SENDING WILTED FLOWERS KNOWING THAT SENDERS WILL NOT KNOW. I ALWAYS SEND THEM A PUTANG INA MESSAGE.
I live in Colombia and bought a gift for a friend of mine in Russia, although I was a little scared of using my credit card, I did it and was surprised by the good service and punctuality of the company. I received all the notifications and the picture of my friend with the gift. Thank you so much guys for your excellent service and I will recommend you and will use you in the future again, no doubt about it!