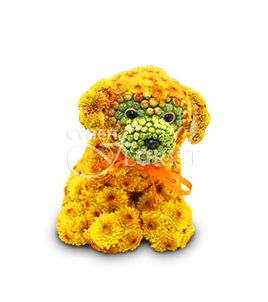 Like this? Share it with your friends
A doggy floral arrangement on a biostructure
It may take 2-3 days for this product to be delivered. Please make sure the order is placed in advance.
Depending on the time of year, the availability of certain sorts of flowers in different regions may be reduced. Additionally, flowers of certain shades may be unavailable on the delivery date. Thus the delivery of an arrangement quite identical to the one shown on the web-site may be impossible. In this case our local florists will deliver a similar or a higher value arrangement. We do our best to keep the original shape, size and color range of requested bouquet, however some deviations are allowed to occur.
Buy a flower arrangement on a framework in a shape of a puppy
It's no longer a secret: online flower delivery can help to congratulate a close person who is far away from you. But once your task is to surprise the recipient as well, you must choose the gift carefully. Buy a flower bouquet? We have something more interesting: a puppy made of sunny chrysanthemums representing devotion and longing for the friend you miss so much.
The arrangement is built on a wireframe, holding floral foam (oasis) that carries the flowers. There are two size options: 20 or 40 cm high. The final touch is a graceful bow on the dog's neck. This adorable toy made of flowers would impress more than any of its standard plush cousins.
Have you appreciated the idea, but not the gift itself? Then we have another flower doggy of more contrasting shades. And if you'd rather present a classic plush pet, take a look at the set of a friendly dog and red roses.
Thank You for working hard and helping me! Wonderful experience! Thanks!
Thank you so much for your service! I ordered perfume and few other gifts and she was so happy! This is a very convenient service. I will definitely use your company for future holidays and recommend to my friends.
Great service and 5 out of 5 Stars for your work taking time finding details presenting the flowers and using quality products. Will recomment your service. Best from Norway
Good morning, I just wanted to let you know how happy I am with your service. Great and timely customer service in Stary Oskol. Flowers were beautiful and my parents really liked the balloons idea :) good selection of champagne and chocolate brand. I appreciate and will use your company again!
Today I sent my wife in Bishkek flowers and champagne and chocolates ...I wish to thank you on all your excellent service .. your service is the best I have encountered regards
I received a photo of the flower bouquet you delivered to Nataliya. It looks great and Nataliya was very pleased with it. I want to thank you for the good job you did and for the good result.
Thank you very much! The order was delivered on time! All fruits are fresh! The surprise worked! Thanks again for your services!
Thank you, and thanks for the wonderful service and beautiful flowers. I live and work in Saudia Arabia and it is nice to have you there like my own personal shopper for birthdays, anniversaries, special occasions, our sons birthday and his first day of school celebrations.
The service was just exceptional, flowers were amazing and I was able with help of cyber florist to make a nice surprise for my mother on her birthday. I have never experienced such a great service. Certainly will come back for your services and will promote your actively in my inner circle.