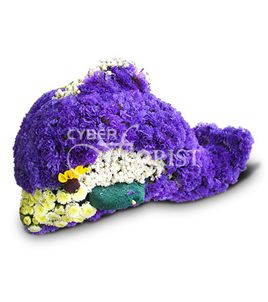 Like this? Share it with your friends
A floral arrangement on a biostructure.
It may take 2-3 days for this product to be delivered. Please make sure the order is placed in advance.
Depending on the time of year, the availability of certain sorts of flowers in different regions may be reduced. Additionally, flowers of certain shades may be unavailable on the delivery date. Thus the delivery of an arrangement quite identical to the one shown on the web-site may be impossible. In this case our local florists will deliver a similar or a higher value arrangement. We do our best to keep the original shape, size and color range of requested bouquet, however some deviations are allowed to occur.
Buy a flower arrangement on a framework in a shape of a dolphin
Leafing through our catalog, you may wonder why we have made it so vast and ramified. The answer is simple: a flower delivery service must always be ready to offer fresh gift ideas even to the most regular customers because presenting the same thing twice is rightly considered unacceptable. Therefore, even if you have already looked through all bouquet types, we still have some interesting proposals left. One of such fresh solutions is toys made of live flowers.
Dolphin is a sea animal evoking purely positive emotions in the vast majority of people. That's why Cyber Florist gladly added a dolphin-shaped arrangement to its flower-toy section; thus, you could always congratulate your family and friends or merely share your joyful mood with them. Ordering a flower bouquet to home is already a pleasant event, so if the buds are professionally assembled on a floral frame into a recognizable shape, then the delivery moment would become a truly unforgettable experience.
No less cute and good-natured appearance also belongs to this charming pink elephant made of chrysanthemums that would immediately steal the addressee's heart. And even if toys made of flowers don't attract you at all, we would suggest one more way to amaze the recipient's imagination: send flowers of unusual colors, for example, a fantastic bouquet of blue and white roses named Magic.
Good morning, I just wanted to let you know how happy I am with your service. Great and timely customer service in Stary Oskol. Flowers were beautiful and my parents really liked the balloons idea :) good selection of champagne and chocolate brand. I appreciate and will use your company again!
You guys did a bang up job, you get my vote for best florist, thank you so much for your help with my delivery to Russiayou were very responsive when out of your way to call me, and check the details in a very satisfied customer thanks Kree you can post my comments
Great service and 5 out of 5 Stars for your work taking time finding details presenting the flowers and using quality products. Will recomment your service. Best from Norway
Great Service, Delivered on the day i Requested in Lithuania. Client was incredibly happy and so am i! will absolutely be using you again for all our client birthdays!! thank you!
Thank You for working hard and helping me! Wonderful experience! Thanks!
Thankyou for your fantastic service.You saved a man from the wrath of a woman.She is so pleased with the gift and Roses .Thankyou again. I have always been impressed by your service.
Hi, Thank you so much. much appreciated your quick service. Kind regards,
I would like to thank you Denis-administrator and all the team for your continued support to ensure my delivery in Russia took place after a few teething problems. ! Your response rate to my emails was excellent! Thank you once again and A Very Merry Christmas to you all.
Dear Slava, You did your job perfectly and I appreciate it! see below: >Darling thank you very much >The flowers are so beautiful, so tender, so gorgeous >This is the best bouquet 💐 in my life >Now I am happy darling, now I am very happy 💕💕💕💕❤️