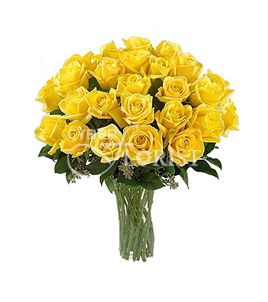 Like this? Share it with your friends
Premium Long-stem Yellow Roses
Standard delivery time is 1 day. We guarantee same-day delivery if the order is placed and paid before 12pm local recipient's time.
Depending on the time of year, the availability of certain sorts of flowers in different regions may be reduced. Additionally, flowers of certain shades may be unavailable on the delivery date. We do our best to keep the original sort, size and color range of requested flower, however some deviations are allowed to occur.
Buy yellow roses apiece
Sometimes we prefer unusual flower bouquets, and sometimes we want to choose something simple and time-tested. This is why our international flower delivery service offers the most popular kinds apiece no costly add-ons attached. And yellow roses are among them: we would gladly bring both a single one and one hundred-and-one!
The yellow bud color has a double meaning. Depending on the context, it can be either an expression of warmth and care or a wish for success primarily financial, and well-being in general. A modest number of stems is enough to convey the first meaning, but the best symbol of wealth would be, of course, a huge bouquet of roses.
Are you looking for yellow flowers but want something more varied? Check out the shimmering bouquet of yellow chrysanthemums, gerberas, and tulips with the addition of calla and regular lilies of the same color. If roses suit your goals, but just a stack of them lack a pinch of creativity, then you would definitely like our bouquet of yellow roses and statice of blue-violet hue. In both cases, additional greens are already included in the price as these are ready-made arrangements.
Thank you very much for the update and prompt delivery. Flowers look lovely! & so do the gifts. Enjoy your day.
she was very pleased with the gifts, thank you very much for your helpful service. Thank You
I LIVE IN UK, IN THE MORNING ORDERED A GORGEOUS FLOWERS FOR MY MOTHER WHO LIVES IN A VERY RURAL AREA IN RUSSIA, IT TOOK LESS THAN 7 HOURS FOR THE PARCEL TO GET DELIVERED!! I AM REALLY HAPPY VERY SATISFIED CUSTOMER, COULNDT WISH FOR MORE!! GREAT PRICE, GREAT SELECION , GREAT AND SPEEDY DELIVERY AND SERVICE ! CUSTOMER ADVISER VYACHESLAV DID PROVIDE A GREAT SERVICE AND BEEN REALLY HELPFULL, THANKYOU !
Hi, Thanks for your great service! Regards,
Thank you so much for your service! I ordered perfume and few other gifts and she was so happy! This is a very convenient service. I will definitely use your company for future holidays and recommend to my friends.
Thanks for a job well done. I was very pleased and will order through you again in the future. Sincerely,
I used this site to order flowers for someone I care deeply about in Russia that is in a hospital, and it was the EASIEST process ever. After calling the 888 number a few times for guidance and speaking to a polite Russian man that spoke English, I ordered the 'Fancy' basket at 1421 CST yesterday, May 26. (I had to use an emailed link to pay instead of directly through the website, so don't be hesitant if this is what you also have to do. The man said it's because my credit card is with an American company.) The basket was delivered at 0905 this morning, May 27! I am SO PLEASED with the service, speed, and cost of this service. I will 100% use them again. I am so glad I took a chance and used this website. Now that I know it's legitimate, I may even do one of the more expensive options next time. May God bless you all, and thank you again!
Just want to send you another note to thank everyone again, for DLE-50423045, and for all of the orders that you have completed for me, this year. The service provided, has been exceptional. The flower shop(s) that has completed the work, has not only made the the flower arrangements special, but there unique touch from time to time, including hand written messages on specially decorated cards, has made each order a joy to discover. There have been many orders, but with every one, the flowers have been of good quality and very fresh. And their delivery drivers, completely changing directions and cities, sometimes, to get the flowers to where ever Albina was, because she had already left the house. It is a bit unsettling to be ordering flowers from the other side of the world and risk a terrible outcome, because that special moment can not be replayed. However your team of people have made it reassuring to order, knowing the best possible outcome, will always be achieved. Of course the biggest indication that you are being successful, is the smiles you have brought to Albina's face with every delivery. She has been impressed with each one. For all of this, and for all of you, a really big THANK YOU. I love and miss Albina dearly, and you have helped me show her this, time and again.
I have used this company like 7 times for past 5 months, there always spot on, with question and concerns and the product always so fresh and make my special lady very happy 😃 thank u very much cyber-florist : )