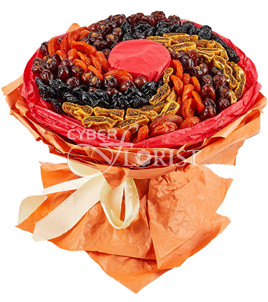 Like this? Share it with your friends
A jar of honey - 250 gr. Dried figs Dried apricots Prunes Dates Wrapping Ribbon Bouquet diameter approx 30 cm
It may take 2-3 days for this product to be delivered. Please make sure the order is placed in advance.
Appearance and brands may vary according to the assortment of a certain region. Our general responsibility is keeping quality and integrity of items delivered.
she was very pleased with the gifts, thank you very much for your helpful service. Thank You
THANK YOU GUYS FOR SUCH GREAT SERVICE!!! WISH YOU HAPPY NEW YEAR AND LOTS AND LOTS OF CLIENTS! PLEASE DONT STOP YOUR SERVICE ;) PS I WILL RECOMMEND YOU TO ALL PEOPLE
You guys did a bang up job, you get my vote for best florist, thank you so much for your help with my delivery to Russiayou were very responsive when out of your way to call me, and check the details in a very satisfied customer thanks Kree you can post my comments
The recipient was delighted with her flowers, and therefore I am delighted with your service to me. You can be sure that I will both return to you and send others to you.
Wow-what a great service, Thank you so much, it only took a couple of hours and my gift was delivered and much appreciated. I won't hesitate to use your service again.
Many thanks you have done an excellent job with this order, Imwould recommend your services to anyone, again thank you !
My mother was in hospital when I placed the order. At that time I didn't know that she was in hospital, so I asked to deliver to her home address. As soon as I found out that my mom wasn't home, I sent the message from my profile notifying the company that my mother was in hospital. How I was surprised when an hour later I got the delivery photo in my email! They had delivered the gift in the hospital! My mother was extremely surprised and happy! Thank you!
Great service... ill book with uall again..
Thanks you guys. I really appreciate it. I really recommend everyone to sick their help when u want a good job to be done. They care about their customers and they know what they do. They did my delivery on the same day. My dad was more than happy. Thanks thanks thanks. I will look forward to work with you again 👌👏