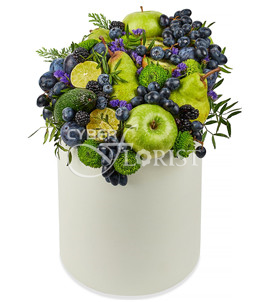 Like this? Share it with your friends
Green apples - 4 pcs. Pears - 3 pcs. Black grapes - 300 gr. Plums - 10 pcs. Kiwi Lime Blackberries - 50 gr. Blueberries - 50 gr. Chrysanthemum Statice Greenery Oasis Gift box
It may take 2-3 days for this product to be delivered. Please make sure the order is placed in advance.
Appearance and brands may vary according to the assortment of a certain region. Our general responsibility is keeping quality and integrity of items delivered.
Ordered birthday flowers, sparkling wine,chocolates & cake only to have the cake not delivered which is very disappointing
Hi, Thanks for your great service! Regards,
Today I sent my wife in Bishkek flowers and champagne and chocolates ...I wish to thank you on all your excellent service .. your service is the best I have encountered regards
Thank you very much for your service, I will definitely be using it again. Have a very good day.
Fernando Fernández Rodríguez
Great service and 5 out of 5 Stars for your work taking time finding details presenting the flowers and using quality products. Will recomment your service. Best from Norway
Thanks a lot for Cyber Florist team! Great professional service! I ordered food basket from NY to Moscow. Next day delivery, reasonable price for such a good fresh food! Will recommend to my friends and will use it for myself.Great customer service! Thanks a lot!
Best international flower delivery service I've ever used. The customer service was beyond excellent. They were always quick to respond and very polite and informative regardless of the time of day. I have absolutely no complaints. Even through a pandemic I was able to send gorgeous flowers to my loved ones located in a very rural town in a different country. Well worthy every penny. Cyber-florist will be my to go to website for flower delivery every time now. I 100% recommend. Thank you so much Cyber-Florist!
WOW thank you so much...The whole experience was fantastic...From the other side of the world 🇦🇺I'll be msg you all again..The flowers are beautiful,I hear the chocolate's are yummy...The photo almost made me cry What a great idea..Thank U all xx 🙏
I would like to thank you Denis-administrator and all the team for your continued support to ensure my delivery in Russia took place after a few teething problems. ! Your response rate to my emails was excellent! Thank you once again and A Very Merry Christmas to you all.