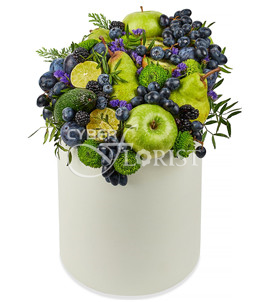 Like this? Share it with your friends
Green apples - 4 pcs. Pears - 3 pcs. Black grapes - 300 gr. Plums - 10 pcs. Kiwi Lime Blackberries - 50 gr. Blueberries - 50 gr. Chrysanthemum Statice Greenery Oasis Gift box
It may take 2-3 days for this product to be delivered. Please make sure the order is placed in advance.
Appearance and brands may vary according to the assortment of a certain region. Our general responsibility is keeping quality and integrity of items delivered.
Hi, Its so nice of you , I highly appreciate your services and your dealing with customers , I will be using cyber-Florist for future orders :) Regards
The service was just exceptional, flowers were amazing and I was able with help of cyber florist to make a nice surprise for my mother on her birthday. I have never experienced such a great service. Certainly will come back for your services and will promote your actively in my inner circle.
Thank You for working hard and helping me! Wonderful experience! Thanks!
Words cant thank enough for the fast service , very professional staff and an ability to understand , work with different client's requests. I would never look any further if I have to send little love from far away one more time. I would personally recommend cyber-florist. Thank you very much for all extra miles. sincerely yours, Elena
I used this site to order flowers for someone I care deeply about in Russia that is in a hospital, and it was the EASIEST process ever. After calling the 888 number a few times for guidance and speaking to a polite Russian man that spoke English, I ordered the 'Fancy' basket at 1421 CST yesterday, May 26. (I had to use an emailed link to pay instead of directly through the website, so don't be hesitant if this is what you also have to do. The man said it's because my credit card is with an American company.) The basket was delivered at 0905 this morning, May 27! I am SO PLEASED with the service, speed, and cost of this service. I will 100% use them again. I am so glad I took a chance and used this website. Now that I know it's legitimate, I may even do one of the more expensive options next time. May God bless you all, and thank you again!
she was very pleased with the gifts, thank you very much for your helpful service. Thank You
Thank you very much for the wonderful service and selection of gifts. I often use the Cyber Florist company for orders to Russia, and all of the arrangements that I have every ordered have always been delivered on time and looked exactly as described. The communication with the team has also been very good. I would definitely recommend this service to anyone!
The order looks great and I appreciate what you guys do. I will continue to use your service. Thank You
Thanks for the service and attention. Flowers were beautiful and She loved them!. Also thanks for helping me with the request and also with the delivery and congratulations, I'll definetely will continue using your services. Please feel free to send me news about your site. I will recomend you!.