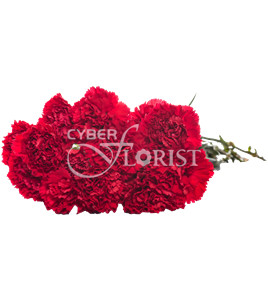 Like this? Share it with your friends
Standard delivery time is 1 day. We guarantee same-day delivery if the order is placed and paid before 12pm local recipient's time.
Depending on the time of year, the availability of certain sorts of flowers in different regions may be reduced. Additionally, flowers of certain shades may be unavailable on the delivery date. We do our best to keep the original sort, size and color range of requested flower, however some deviations are allowed to occur.
Buy red carnations apiece
Carnation flower delivery is one of the most affordable ways to show attention to a loved one. The carnation arrangement would be a worthy gift that won't hit your pocket as it successfully combines durability and splendor. Truly, to buy flowers with home delivery is nowadays inexpensive, but at the same time, surprising and very pleasant, which means the recipient would definitely remember it.
We can say this is a bouquet constructor. You determine the size yourself by specifying the exact number of stems you need. Options such as extra greenery or a glass vase are available as well. Also, you are free to create a whole set by deciding to add a plush toy, sweet treats, balloons, or everything at once. You were looking for cheap flower delivery, but the result is an entire holiday brought to your addressee!
Carnations have a worthy competitor in providing beauty at a modest price: spray chrysanthemums apiece. Their color range is astonishingly extensive, so even a small budget would allow you to purchase a large and variegated bouquet. For those looking exclusively for carnations but in a more festive design, we recommend a stylish bouquet in red and white shades.
I LIVE IN UK, IN THE MORNING ORDERED A GORGEOUS FLOWERS FOR MY MOTHER WHO LIVES IN A VERY RURAL AREA IN RUSSIA, IT TOOK LESS THAN 7 HOURS FOR THE PARCEL TO GET DELIVERED!! I AM REALLY HAPPY VERY SATISFIED CUSTOMER, COULNDT WISH FOR MORE!! GREAT PRICE, GREAT SELECION , GREAT AND SPEEDY DELIVERY AND SERVICE ! CUSTOMER ADVISER VYACHESLAV DID PROVIDE A GREAT SERVICE AND BEEN REALLY HELPFULL, THANKYOU !
I want to thank all of you for this great service , I want to thank you for the happiness moments you give us! You are always the best of the best!
I received a photo of the flower bouquet you delivered to Nataliya. It looks great and Nataliya was very pleased with it. I want to thank you for the good job you did and for the good result.
Thank You again for a job well done. Olga loved the arrangement. i will be in touch with you again in January. Olga has a birthday and it will be 10 years that we have been together on 20 January. Thank You again. she was very surprised and happy.
WOW thank you so much...The whole experience was fantastic...From the other side of the world 🇦🇺I'll be msg you all again..The flowers are beautiful,I hear the chocolate's are yummy...The photo almost made me cry What a great idea..Thank U all xx 🙏
Thanks you guys. I really appreciate it. I really recommend everyone to sick their help when u want a good job to be done. They care about their customers and they know what they do. They did my delivery on the same day. My dad was more than happy. Thanks thanks thanks. I will look forward to work with you again 👌👏
thank you very much! you made me happy, excellent service...
You guys did a bang up job, you get my vote for best florist, thank you so much for your help with my delivery to Russiayou were very responsive when out of your way to call me, and check the details in a very satisfied customer thanks Kree you can post my comments
Thank you so much for this! I appreciate. I Wish you prosper business!
Sanjeev kohli, New Delhi India