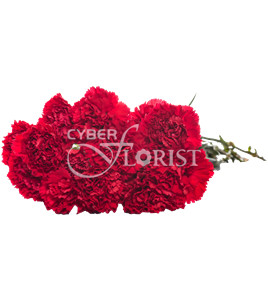 Like this? Share it with your friends
Standard delivery time is 1 day. We guarantee same-day delivery if the order is placed and paid before 12pm local recipient's time.
Depending on the time of year, the availability of certain sorts of flowers in different regions may be reduced. Additionally, flowers of certain shades may be unavailable on the delivery date. We do our best to keep the original sort, size and color range of requested flower, however some deviations are allowed to occur.
Buy red carnations apiece
Carnation flower delivery is one of the most affordable ways to show attention to a loved one. The carnation arrangement would be a worthy gift that won't hit your pocket as it successfully combines durability and splendor. Truly, to buy flowers with home delivery is nowadays inexpensive, but at the same time, surprising and very pleasant, which means the recipient would definitely remember it.
We can say this is a bouquet constructor. You determine the size yourself by specifying the exact number of stems you need. Options such as extra greenery or a glass vase are available as well. Also, you are free to create a whole set by deciding to add a plush toy, sweet treats, balloons, or everything at once. You were looking for cheap flower delivery, but the result is an entire holiday brought to your addressee!
Carnations have a worthy competitor in providing beauty at a modest price: spray chrysanthemums apiece. Their color range is astonishingly extensive, so even a small budget would allow you to purchase a large and variegated bouquet. For those looking exclusively for carnations but in a more festive design, we recommend a stylish bouquet in red and white shades.
I am very impressed. Last night, I ordered flowers for my cousins in Poland who just lost their mother and grandmother. I requested that the flowers be delivered the next day. Not only were the flowers delivered as promised, but they were also of great quality. My cousins sent me a picture of the bouquet, and it was gorgeous. Thank you!
Thank you for delivering promptly and on time. I will surely use your service in the future again
Thank you so much for your service! I ordered perfume and few other gifts and she was so happy! This is a very convenient service. I will definitely use your company for future holidays and recommend to my friends.
Best international flower delivery service I've ever used. The customer service was beyond excellent. They were always quick to respond and very polite and informative regardless of the time of day. I have absolutely no complaints. Even through a pandemic I was able to send gorgeous flowers to my loved ones located in a very rural town in a different country. Well worthy every penny. Cyber-florist will be my to go to website for flower delivery every time now. I 100% recommend. Thank you so much Cyber-Florist!
I want to thank all of you for this great service , I want to thank you for the happiness moments you give us! You are always the best of the best!
Hi, Thanks for your great service! Regards,
I am so thrilled! She messaged me with more excitement than I've ever heard! Needless to say, I will be using your service for many times to come!!
Thank u so much. U r a great site thanks)))
Dear Slava, You did your job perfectly and I appreciate it! see below: >Darling thank you very much >The flowers are so beautiful, so tender, so gorgeous >This is the best bouquet 💐 in my life >Now I am happy darling, now I am very happy 💕💕💕💕❤️