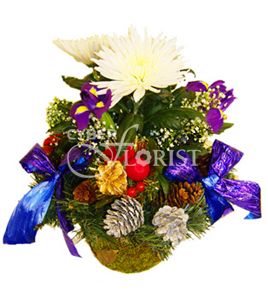 Like this? Share it with your friends
7 irises 2 chrysanthemums Holiday decoration Basket
Standard delivery time is 1 day. We guarantee same-day delivery if the order is placed and paid before 12pm local recipient's time.
Appearance and brands may vary according to the assortment of a certain region. Our general responsibility is keeping quality and integrity of items delivered.
Send flowers to your relatives and dearest friends with Cyber-Florist
New Year is very close now, and each family is looking for the right gifts to give. Giving flowers in a bouquet can be an excellent idea as it's always appropriate and there are so many occasions that call for such gift: from christmas day to new year eve party.
If you want your message of love or wishes delivered on Christmas Eve Day, please order with us at least one week before December 25th! We will try our best to make sure they arrive fresh but we cannot guarantee anything if you order too late.
From 12/24 till 12/26 we deliver only next day because of high volume of orders !!!
If you are far away from your relatives and want to make sure they will get the bouquet on Christmas Day, order it no later than December 18th.
Is your new year eve party tomorrow? Order online right now some rose arrangements or local style carnations in one or two days delivery! You will have enough time to prepare them with care and create wonderful decoration
Great service and 5 out of 5 Stars for your work taking time finding details presenting the flowers and using quality products. Will recomment your service. Best from Norway
I have used this company like 7 times for past 5 months, there always spot on, with question and concerns and the product always so fresh and make my special lady very happy 😃 thank u very much cyber-florist : )
Dear Slava, You did your job perfectly and I appreciate it! see below: >Darling thank you very much >The flowers are so beautiful, so tender, so gorgeous >This is the best bouquet 💐 in my life >Now I am happy darling, now I am very happy 💕💕💕💕❤️
Thank you so much for your service! I ordered perfume and few other gifts and she was so happy! This is a very convenient service. I will definitely use your company for future holidays and recommend to my friends.
Thank you very much for the update and prompt delivery. Flowers look lovely! & so do the gifts. Enjoy your day.
Thank you very much for the wonderful service and selection of gifts. I often use the Cyber Florist company for orders to Russia, and all of the arrangements that I have every ordered have always been delivered on time and looked exactly as described. The communication with the team has also been very good. I would definitely recommend this service to anyone!
I have used a lot of online flower delivery services but Cyber Florist has exceeded my expectations. I ordered flowers and chocolate for my wife (who is abroad with her family at the moment) and the flowers were in great condition. The customer service was amazing as well! Slava was attentive to all my questions about the time and delivery and any other questions I had to ask. I will definitely continue ordering from Cyber Florist the future.
Many thanks you have done an excellent job with this order, Imwould recommend your services to anyone, again thank you !
Thank You again for a job well done. Olga loved the arrangement. i will be in touch with you again in January. Olga has a birthday and it will be 10 years that we have been together on 20 January. Thank You again. she was very surprised and happy.