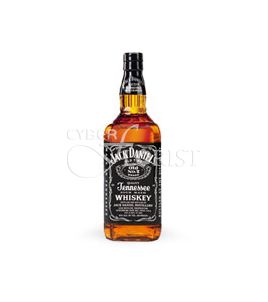 Like this? Share it with your friends
A bottle of Jack Daniel's Tennessee Whisky
Standard delivery time is 1 day. We guarantee same-day delivery if the order is placed and paid before 12pm local recipient's time.
Appearance and brands may vary according to the assortment of a certain region. Our general responsibility is keeping quality and integrity of items delivered.
Order Jack Daniel`s Tennessee Whiskey with delivery from Cyber-florist.com
Are you an expert in strong alcoholic beverages and you want to surprise the once you love with the high-quality American whiskey? Cyber-florist will take care of this! We will be happy to help you to make a lasting impression of you to your friends and family!
A box of chocolates will be a great addition to a bottle of good whiskey. You can also add it to your order right now!
To place an order, you need to take a few simple steps: choose a gift that suits you, add it to your basket, select a delivery date, specify delivery details (recipient information and a card message) and just place an order. p >
Cyber-florist offers convenient payment methods on the website by card or via PayPal
If you have any questions, please contact our 24/7 support team, our team is always happy to help you!
Perfect. I placed my order from America to deliver to my fiance in St Petersburg, Russia and they delivered a perfect arrangement exactly as promised. Wonderful service especially with all the ignorance in the west making simply living difficult. Thank you for making my fiance (and me) very happy.
Thank u so much. U r a great site thanks)))
Many thanks you have done an excellent job with this order, Imwould recommend your services to anyone, again thank you !
As always I'm so pleased with your services, flowers arrived in perfect time. Thank you so much. I wish all of you and your staff a Happy New Year 2015. You guys are awesome.
Thank you very much for a job well done. Great photo too. You are a great company and I will continue to use your services. Much appreciated.
Best international flower delivery service I've ever used. The customer service was beyond excellent. They were always quick to respond and very polite and informative regardless of the time of day. I have absolutely no complaints. Even through a pandemic I was able to send gorgeous flowers to my loved ones located in a very rural town in a different country. Well worthy every penny. Cyber-florist will be my to go to website for flower delivery every time now. I 100% recommend. Thank you so much Cyber-Florist!
I have used this company like 7 times for past 5 months, there always spot on, with question and concerns and the product always so fresh and make my special lady very happy 😃 thank u very much cyber-florist : )
I have used a lot of online flower delivery services but Cyber Florist has exceeded my expectations. I ordered flowers and chocolate for my wife (who is abroad with her family at the moment) and the flowers were in great condition. The customer service was amazing as well! Slava was attentive to all my questions about the time and delivery and any other questions I had to ask. I will definitely continue ordering from Cyber Florist the future.
Just want to send you another note to thank everyone again, for DLE-50423045, and for all of the orders that you have completed for me, this year. The service provided, has been exceptional. The flower shop(s) that has completed the work, has not only made the the flower arrangements special, but there unique touch from time to time, including hand written messages on specially decorated cards, has made each order a joy to discover. There have been many orders, but with every one, the flowers have been of good quality and very fresh. And their delivery drivers, completely changing directions and cities, sometimes, to get the flowers to where ever Albina was, because she had already left the house. It is a bit unsettling to be ordering flowers from the other side of the world and risk a terrible outcome, because that special moment can not be replayed. However your team of people have made it reassuring to order, knowing the best possible outcome, will always be achieved. Of course the biggest indication that you are being successful, is the smiles you have brought to Albina's face with every delivery. She has been impressed with each one. For all of this, and for all of you, a really big THANK YOU. I love and miss Albina dearly, and you have helped me show her this, time and again.