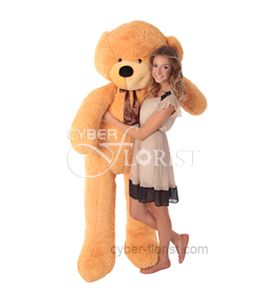 Like this? Share it with your friends
It may take 2-3 days for this product to be delivered. Please make sure the order is placed in advance.
Appearance and brands may vary according to the assortment of a certain region. Our general responsibility is keeping quality and integrity of items delivered.
Order Huge Beige Teddy Bear online! Send this gift to someone special.
All girls love them! You can add some flowers or just a box of finest chocolates and make the recipient even happier!
It's very easy now with Cyber-Florist! In case you've got any questions, don't hesitate to contact our 24x7 Customer Support.
Hello good morning! just received a message from her, and she is extremely happy with the flowers she got! Thank you very much for this :) Indeed, such a nice service!!!!!
Dear Slava, You did your job perfectly and I appreciate it! see below: >Darling thank you very much >The flowers are so beautiful, so tender, so gorgeous >This is the best bouquet 💐 in my life >Now I am happy darling, now I am very happy 💕💕💕💕❤️
Thank you, guys, so much, for everything you do. My family in Vilnius is very happy with the food sets they have received today. You Rock! From my Family to yours - Wishing you and your family a Happy New year; filled with joy, adventures, opportunities and prosperities!! Happy New Year!
I LIVE IN UK, IN THE MORNING ORDERED A GORGEOUS FLOWERS FOR MY MOTHER WHO LIVES IN A VERY RURAL AREA IN RUSSIA, IT TOOK LESS THAN 7 HOURS FOR THE PARCEL TO GET DELIVERED!! I AM REALLY HAPPY VERY SATISFIED CUSTOMER, COULNDT WISH FOR MORE!! GREAT PRICE, GREAT SELECION , GREAT AND SPEEDY DELIVERY AND SERVICE ! CUSTOMER ADVISER VYACHESLAV DID PROVIDE A GREAT SERVICE AND BEEN REALLY HELPFULL, THANKYOU !
Great service and 5 out of 5 Stars for your work taking time finding details presenting the flowers and using quality products. Will recomment your service. Best from Norway
Today I sent my wife in Bishkek flowers and champagne and chocolates ...I wish to thank you on all your excellent service .. your service is the best I have encountered regards
Hi, Thanks for your great service! Regards,
Thank you very much! The order was delivered on time! All fruits are fresh! The surprise worked! Thanks again for your services!
Thank you, everyone, for all your help! This was a great experience getting flowers and having all my question answered plus little request met. Thank you again!!