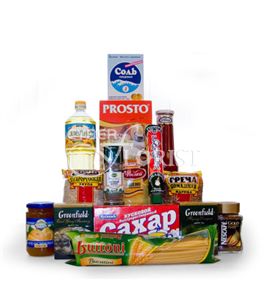 Like this? Share it with your friends
Russian mustard Jam Tomato ketchup Nescafe instant coffee Buckwheat Pearl barley Millet grits Sunflower oil Rice Sugar Salt Spaghetti Green tea Black tea Black pepper ground
Standard delivery time is 1 day. We guarantee same-day delivery if the order is placed and paid before 12pm local recipient's time.
Appearance and brands may vary according to the assortment of a certain region. Our general responsibility is keeping quality and integrity of items delivered.
Hello good morning! just received a message from her, and she is extremely happy with the flowers she got! Thank you very much for this :) Indeed, such a nice service!!!!!
Perfect. I placed my order from America to deliver to my fiance in St Petersburg, Russia and they delivered a perfect arrangement exactly as promised. Wonderful service especially with all the ignorance in the west making simply living difficult. Thank you for making my fiance (and me) very happy.
I am so thrilled! She messaged me with more excitement than I've ever heard! Needless to say, I will be using your service for many times to come!!
I have an account with you and used your service for the first time recently. I am here to say I AM VERY PLEASED! Your delivery was on time, the flowers and vase were very beautiful (my lady was VERY impressed) and everything was wonderful. Thank you. I will be sure to use your service again. :-)
Thanks for the service and attention. Flowers were beautiful and She loved them!. Also thanks for helping me with the request and also with the delivery and congratulations, I'll definetely will continue using your services. Please feel free to send me news about your site. I will recomend you!.
The service was just exceptional, flowers were amazing and I was able with help of cyber florist to make a nice surprise for my mother on her birthday. I have never experienced such a great service. Certainly will come back for your services and will promote your actively in my inner circle.
Great Service, Delivered on the day i Requested in Lithuania. Client was incredibly happy and so am i! will absolutely be using you again for all our client birthdays!! thank you!
Hi, Thanks for your great service! Regards,
Thank you very much for outstanding and customer oriented service