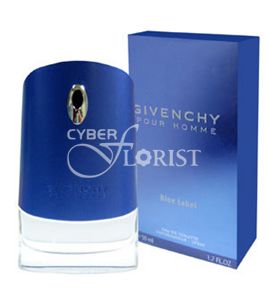 Like this? Share it with your friends
Givenchy Pour Homme Blue Label Eau De Toilette
Standard delivery time is 1 day. We guarantee same-day delivery if the order is placed and paid before 12pm local recipient's time.
Appearance and brands may vary according to the assortment of a certain region. Our general responsibility is keeping quality and integrity of items delivered.
Buy Pour Homme Blue Label eau de toilette as a gift for a man with delivery
If you want to congratulate a man who is far from you, you can always order a gift delivery from Cyber ​​Florist.
Eau de toilette is a great gift idea for a man. You can order eau de toilette with delivery anywhere in the world.
To arrange the delivery of a gift for a person who is far from you, you need to specify the city and date of delivery, enter the recipient's address, and make an online payment.
Don't forget to leave your message to the recipient. We will print it on a beautiful postcard and give it along with the chosen gift.
Thank you for delivering promptly and on time. I will surely use your service in the future again
The order looks great and I appreciate what you guys do. I will continue to use your service. Thank You
Just want to send you another note to thank everyone again, for DLE-50423045, and for all of the orders that you have completed for me, this year. The service provided, has been exceptional. The flower shop(s) that has completed the work, has not only made the the flower arrangements special, but there unique touch from time to time, including hand written messages on specially decorated cards, has made each order a joy to discover. There have been many orders, but with every one, the flowers have been of good quality and very fresh. And their delivery drivers, completely changing directions and cities, sometimes, to get the flowers to where ever Albina was, because she had already left the house. It is a bit unsettling to be ordering flowers from the other side of the world and risk a terrible outcome, because that special moment can not be replayed. However your team of people have made it reassuring to order, knowing the best possible outcome, will always be achieved. Of course the biggest indication that you are being successful, is the smiles you have brought to Albina's face with every delivery. She has been impressed with each one. For all of this, and for all of you, a really big THANK YOU. I love and miss Albina dearly, and you have helped me show her this, time and again.
Thank you guys,she loved the roses and chocolate 👍
thank you very much! you made me happy, excellent service...
I would like to thank you Denis-administrator and all the team for your continued support to ensure my delivery in Russia took place after a few teething problems. ! Your response rate to my emails was excellent! Thank you once again and A Very Merry Christmas to you all.
Thank you very much for outstanding and customer oriented service
As always I'm so pleased with your services, flowers arrived in perfect time. Thank you so much. I wish all of you and your staff a Happy New Year 2015. You guys are awesome.
I am so thrilled! She messaged me with more excitement than I've ever heard! Needless to say, I will be using your service for many times to come!!