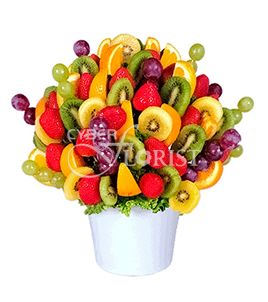 Like this? Share it with your friends
Bananas, strawberries, kiwifruit, grapes, oranges. Total weight is 3 kg.
It may take 2-3 days for this product to be delivered. Please make sure the order is placed in advance.
Appearance and brands may vary according to the assortment of a certain region. Our general responsibility is keeping quality and integrity of items delivered.
thank you very much! you made me happy, excellent service...
Thanks a lot for Cyber Florist team! Great professional service! I ordered food basket from NY to Moscow. Next day delivery, reasonable price for such a good fresh food! Will recommend to my friends and will use it for myself.Great customer service! Thanks a lot!
I have used this company like 7 times for past 5 months, there always spot on, with question and concerns and the product always so fresh and make my special lady very happy 😃 thank u very much cyber-florist : )
I am so thrilled! She messaged me with more excitement than I've ever heard! Needless to say, I will be using your service for many times to come!!
Thank you very much! The order was delivered on time! All fruits are fresh! The surprise worked! Thanks again for your services!
As always I'm so pleased with your services, flowers arrived in perfect time. Thank you so much. I wish all of you and your staff a Happy New Year 2015. You guys are awesome.
Thankyou for your fantastic service.You saved a man from the wrath of a woman.She is so pleased with the gift and Roses .Thankyou again. I have always been impressed by your service.
Thank you for delivering promptly and on time. I will surely use your service in the future again
Cyber-florist thank you so much... Great service. Its my first order and i am so happy i made this transaction with you... This is a very important occasion for my beloved and you made our day.. Perfect flowers exactly like on the webpage... The toy is very cute.. Kudos for your team.. Keep up the good work.. Looking forward for another order... I love you guys...