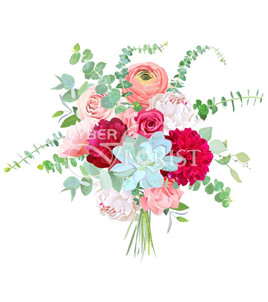 Like this? Share it with your friends
A bouquet at florist's choice. You may specify color and flower preference in 'Comments' field while placing your order.
Standard delivery time is 1 day. We guarantee same-day delivery if the order is placed and paid before 12pm local recipient's time.
Order florist choice floral bouquet from Cyber Florist
Order our florist choice bouquet When you don't know what kind of flowers to choose.
Depending on the occasion our florists will compose beautiful bouquet of fresh flowers that will fit perfect for your occasion.
While ordering you can choose the amount of flowers and specify your wishes for the design. Or you can completely trust the taste of our florist.
Hi, Thanks for your great service! Regards,
I am very impressed. Last night, I ordered flowers for my cousins in Poland who just lost their mother and grandmother. I requested that the flowers be delivered the next day. Not only were the flowers delivered as promised, but they were also of great quality. My cousins sent me a picture of the bouquet, and it was gorgeous. Thank you!
Best international flower delivery service I've ever used. The customer service was beyond excellent. They were always quick to respond and very polite and informative regardless of the time of day. I have absolutely no complaints. Even through a pandemic I was able to send gorgeous flowers to my loved ones located in a very rural town in a different country. Well worthy every penny. Cyber-florist will be my to go to website for flower delivery every time now. I 100% recommend. Thank you so much Cyber-Florist!
Thank you very much for the wonderful and curtious service. Mila is very happy with the arrangement !! Obviously I will return with more business in the future!! Respectively,
I sent red roses to my wife in Moscow, Russia for her birthday and they were delivered exactly when required. I'm very impressed! The delivery guy called my wife to confirm delivery information and the flowers looked GREAT! I will definitely use this service again. 5 Stars!
I am so thrilled! She messaged me with more excitement than I've ever heard! Needless to say, I will be using your service for many times to come!!
thank you very much! you made me happy, excellent service...
You have always done such a wonderful job with my Nastya, I truly appreciate your service.
Thank you! You re amazing guys! Just conquered a new costumer here! Sure i ll request your services from now on... just need to look to my princess smile:))))) Best regards