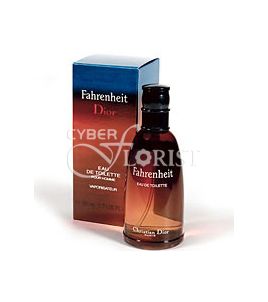 Like this? Share it with your friends
Christian Dior Fahrenheit Eau De Toilette
Standard delivery time is 1 day. We guarantee same-day delivery if the order is placed and paid before 12pm local recipient's time.
Appearance and brands may vary according to the assortment of a certain region. Our general responsibility is keeping quality and integrity of items delivered.
Buy Fahrenheit eau de toilette as a gift for a man with delivery
A universal gift for a man for any occasion - eau de toilette from Christian Dior.
Eau de toilette is a great gift idea for a man. You can order eau de toilette with delivery anywhere in the world.
To arrange the delivery of a gift for a person who is far from you, you need to specify the city and date of delivery, enter the recipient's address, and make an online payment.
Don't forget to leave your message to the recipient. We will print it on a beautiful postcard and give it along with the chosen gift.
Thank you so much for this! I appreciate. I Wish you prosper business!
Sanjeev kohli, New Delhi India
Thank you very much for your service, I will definitely be using it again. Have a very good day.
Fernando Fernández Rodríguez
Thank you for delivering promptly and on time. I will surely use your service in the future again
I sent red roses to my wife in Moscow, Russia for her birthday and they were delivered exactly when required. I'm very impressed! The delivery guy called my wife to confirm delivery information and the flowers looked GREAT! I will definitely use this service again. 5 Stars!
You have always done such a wonderful job with my Nastya, I truly appreciate your service.
First time using your online store to order. YOU HIT IT IN THE PARK. PLEASE CONTINUE YOUR GREAT CUSTOMER SUPPORT, PAST DELIVERY PHOTOS SHOWS YOUR BUSINESS IS AN EXCELLENT PROVIDER OF GREAT CUSTOMER SERVICE. Used other Philippine online flower store in the past, THEY CHEATED THEIR CUSTOMERS BY SUBSTITUTING FLOWERS OR SOMETIMES SENDING WILTED FLOWERS KNOWING THAT SENDERS WILL NOT KNOW. I ALWAYS SEND THEM A PUTANG INA MESSAGE.
Hello good morning! just received a message from her, and she is extremely happy with the flowers she got! Thank you very much for this :) Indeed, such a nice service!!!!!
I want to thank all of you for this great service , I want to thank you for the happiness moments you give us! You are always the best of the best!
Wow-what a great service, Thank you so much, it only took a couple of hours and my gift was delivered and much appreciated. I won't hesitate to use your service again.