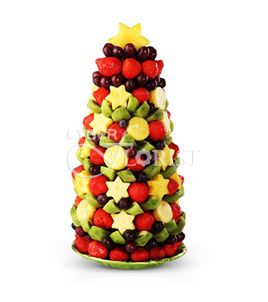 Like this? Share it with your friends
Pineapple, strawberries, kiwifruit, grapes. Total weight is 3 kg
It may take 2-3 days for this product to be delivered. Please make sure the order is placed in advance.
Appearance and brands may vary according to the assortment of a certain region. Our general responsibility is keeping quality and integrity of items delivered.
You guys did a bang up job, you get my vote for best florist, thank you so much for your help with my delivery to Russiayou were very responsive when out of your way to call me, and check the details in a very satisfied customer thanks Kree you can post my comments
I have used this company like 7 times for past 5 months, there always spot on, with question and concerns and the product always so fresh and make my special lady very happy 😃 thank u very much cyber-florist : )
I live in Colombia and bought a gift for a friend of mine in Russia, although I was a little scared of using my credit card, I did it and was surprised by the good service and punctuality of the company. I received all the notifications and the picture of my friend with the gift. Thank you so much guys for your excellent service and I will recommend you and will use you in the future again, no doubt about it!
she was very pleased with the gifts, thank you very much for your helpful service. Thank You
Thanks you guys. I really appreciate it. I really recommend everyone to sick their help when u want a good job to be done. They care about their customers and they know what they do. They did my delivery on the same day. My dad was more than happy. Thanks thanks thanks. I will look forward to work with you again 👌👏
Ordered birthday flowers, sparkling wine,chocolates & cake only to have the cake not delivered which is very disappointing
I received a photo of the flower bouquet you delivered to Nataliya. It looks great and Nataliya was very pleased with it. I want to thank you for the good job you did and for the good result.
Thank you very much for your service, I will definitely be using it again. Have a very good day.
Fernando Fernández Rodríguez
Thank you so much for your service! I ordered perfume and few other gifts and she was so happy! This is a very convenient service. I will definitely use your company for future holidays and recommend to my friends.