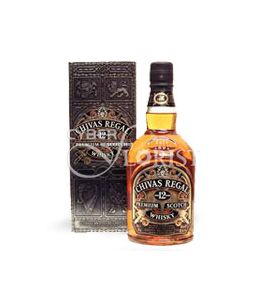 Like this? Share it with your friends
A bottle of 12 years Chivas Regal 12 years old whisky
Standard delivery time is 1 day. We guarantee same-day delivery if the order is placed and paid before 12pm local recipient's time.
Appearance and brands may vary according to the assortment of a certain region. Our general responsibility is keeping quality and integrity of items delivered.
Order now a bottle of Chivas Regal 12 Years Old Whiskey at Cyber ​​Florist
Buy whiskey for your friends and family or just for true connoisseurs of high quality alcoholic beverages.
Cyber-florist.com will deliver your gift at the right time for any reason and without it.
The perfect combination of rich taste and soft aftertaste of real Scottish whiskey will give you and once you love an unforgettable experience.
It will not be difficult to place an order on our website Cyber-florist.com. You just need to choose a gift, add it to your cart, select a delivery date, specify delivery details and place your order.
Cyber-florist offers convenient payment methods on the website by card or via PayPal
If you have any questions, please contact our 24/7 support team, we are always happy to help you!
Sanjeev kohli, New Delhi India
Perfect. I placed my order from America to deliver to my fiance in St Petersburg, Russia and they delivered a perfect arrangement exactly as promised. Wonderful service especially with all the ignorance in the west making simply living difficult. Thank you for making my fiance (and me) very happy.
Words cant thank enough for the fast service , very professional staff and an ability to understand , work with different client's requests. I would never look any further if I have to send little love from far away one more time. I would personally recommend cyber-florist. Thank you very much for all extra miles. sincerely yours, Elena
she was very pleased with the gifts, thank you very much for your helpful service. Thank You
Thank you, everyone, for all your help! This was a great experience getting flowers and having all my question answered plus little request met. Thank you again!!
Thank you so much for your service! I ordered perfume and few other gifts and she was so happy! This is a very convenient service. I will definitely use your company for future holidays and recommend to my friends.
The order looks great and I appreciate what you guys do. I will continue to use your service. Thank You
First time using your online store to order. YOU HIT IT IN THE PARK. PLEASE CONTINUE YOUR GREAT CUSTOMER SUPPORT, PAST DELIVERY PHOTOS SHOWS YOUR BUSINESS IS AN EXCELLENT PROVIDER OF GREAT CUSTOMER SERVICE. Used other Philippine online flower store in the past, THEY CHEATED THEIR CUSTOMERS BY SUBSTITUTING FLOWERS OR SOMETIMES SENDING WILTED FLOWERS KNOWING THAT SENDERS WILL NOT KNOW. I ALWAYS SEND THEM A PUTANG INA MESSAGE.
Thank You again for a job well done. Olga loved the arrangement. i will be in touch with you again in January. Olga has a birthday and it will be 10 years that we have been together on 20 January. Thank You again. she was very surprised and happy.
Thank you for your wonderful service and promt delivery I give you a 5 star rating..